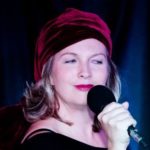 Anyone who can legitimately include the Patsy Cline country standard "I Fall to Pieces" (Hank Cochran, Harlan Howard) in a show about a German girlhood near the Black Forest certainly has my admiration as well as my attention. Susanne Mack accomplished that and more in her recent compelling outing at Pangea (directed by Gretchen Cryer). Combining a beautifully curated, eclectic list of both German and American songs with just the right amount of narration, Mack told her early life story—with an admirable lack of bitterness or self-pity, although she had ample reason for both. Her singing throughout the autobiographical set, whether suitably declarative or appropriately subtle, was a joy to listen to. She had solid underpinning from musical director and pianist Tracy Stark, and John DiPinto on accordion; both musicians also provided effective backup vocals.
As a child, Mack lived with her single mother and grandparents—and her ever-hopeful curiosity about her absent father. Her mother both deflected the questions and lied outright about his activities and location, even giving her daughter presents that she said came from him. Two songs that Mack sang as her mother might have, set this tone: "I Will Wait for You" (Michel Legrand, Jacques Demy, English lyric by Norman Gimbel), and "Patterns" (Maltby & Shire). It was only later in the show, when the truth started to come out, that we heard details, in a more blatant, stunning set: "Papa was a Rollin' Stone" (Norman Whitfield, Barrett Strong), "The Lies of Handsome Men" (Francesca Blumenthal), "Fifty Percent" (Billy Goldenberg, Alan and Marilyn Bergman), "Living in the Shadows" (Frank Wildhorn, Leslie Bricusse), and "In My Secret Life" (Leonard Cohen, Sharon Robinson).
An equally effective group of songs (all sung in full; there was not a medley in this show, mercifully) supported Susanne's finally finding out, in her eighth-grade classroom, about Germany's Nazi past, Hitler, and the Holocaust, none of which had ever been mentioned at home. "Mack the Knife" (Kurt Weill, Bertolt Brecht, English lyric by Marc Blitzstein) was somehow more menacing sung half in German, half in English. "Silent Spring" (Harold Arlen, E.Y. Harburg) was simply chilling. And "Song of the Whitewash " (Brecht, Hanns Eisler) nailed the cover-up, which in this case was not worse than the crime. The mood softened somewhat with an exquisite rendering of Pete Seeger's "Where Have All the Flowers Gone?" (more aptly, "Sag mir wo die Blumen sind"), which Mack sang entirely in German, as Marlene Dietrich sometimes did, especially in her serial farewell tours.
I do have a few quibbles. Although Mack delivered a knockout version of the song, it wasn't quite clear to me who the "Party Doll" (Mick Jagger) was: Susanne or her mother, or both. "Come Away Melinda" (Fred Hellerman, Fran Minkoff), admittedly heard only in a snippet, seemed a bit beside the point, its only relevance being that it was the name of one of Susanne's dolls. I got tired of Mack's speaking in the present tense about the past, early on: "Now I'm seven and in second grade." While the rest of the show was appropriately chronological, for some unknown reason the aforementioned "I Fall to Pieces," in aid of delineating late teenage romantic angst and its accompanying narrative, came before the 12-year-old's Susanne's finding out about her country's hateful past, a subject about which an audience would be more curious. Finally, the show's title, Reconciliation, seemed wrong, given the story's denouement, which I won't reveal here. "Resolution" might be nearer the case. And that's always a good thing to have at the end of a cabaret show. "Resolve," the secondary, more hopeful, meaning of "resolution," was nicely underscored by Mack's encore, Tracy Stark's "Find My Strength."
Reconciliation
Pangea  –  November 4, 11, February 16, 24
Category: Reviews