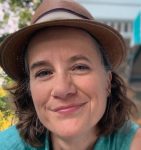 For the last few decades, Susan Werner has been delighting audiences as a singer, a songwriter, and an instrumentalist. She's continued her string of delightful, witty, warm, and wise songs with her "NOLA project," which, as one might surmise, spawned songs inspired by and in tribute to the historic music center New Orleans. Her recent show at Joe's pub included a few selections from her latest CD, NOLA – Susan Werner Goes to New Orleans.
She opened with "The Night I Ate New Orleans," a compendium of the places and meals to be experienced in the Louisiana landmark, filled with names sure to conjure past culinary delights for anyone who has ever visited the city. The jazz, blues, and street rhythms of the city filled the song with inviting familiarity, while the intricate wordplay and rhymes marked it as her personal property. Echoes of the Nevilles, Professor Longhair, and Allen Toussaint, among other denizens of the smoky jazz clubs and music festivals, swirled in the melodies as she used their sounds as building blocks for her own stories. "Free Your Ass" might easily have come from an early Dr. John album—Werner's obvious joy in performing it was infectious. She even made an audience sing-along palatable with the Randy Newmanesque "Napoleon," about the mistake of selling Louisiana in the first place.
From her album I Can't Be New (her "Cole Porter project," in which she imagined a group of standards written by Porter's sister, Colette), she included the title song, a bittersweet love song unlike any other, with a heartbreaking twist amid the smiles and laughter. Her wildly comic side was given full sway with two songs from her collection Eight Unnecessary Songs: "What Did You Do to Your Face?" (an ode to plastic surgery) and " Dog" (a revelatory first-date deal breaker). From The Gospel Truth, her agnostic gospel album, came a powerful call for inclusion called "Why Is Your Heaven So Small?"
Werner moved between piano and guitar with equally impressive results. She was supported at every turn by harmonica virtuoso Trina Hamlin, who contributed soulful backing vocals as well. Susan Werner's writing deserves mention alongside such icons as Jimmy Webb and Paul Simon. Her breezy, light-hearted persona and delivery sometimes mask the impeccable talent always there to be found.
Joe's Pub – February 20
Category: Reviews