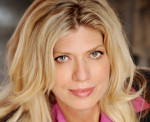 Entering through the house wearing a bonnet full of sunflowers and a long black coat over a black catsuit and boots, Sandra Bargman knew how to make an entrance and you got the feeling you were in for a very different kind of cabaret show. On that score, Bargman, a theatre veteran as well as an ordained interfaith minister, did not disappoint.
The statuesque and blonde Bargman brought a theatrical flair to everything she did, and her voice has great power (although it lacks some of the softer nuances one might bring to an intimate cabaret setting), most commanding on her golden alto notes. A pairing of "There'll Be Some Changes Made" (Billy Higgins, W. Benton Overstreet) and "Under Pressure" (David Bowie, Freddie Mercury, Roger Taylor, John Deacon, Brian May) made a galvanizing opening number.
Bargman seems to specialize in bringing a sense of theatre to radio pop songs. She gave "Everyday People" (Sylvester Stewart) a multicultural carnival atmosphere, and in her hands, "Coming Out of the Dark" (Gloria Estefan, Emilio Estefan Jr., Jon Secada), a song too big for Estefan's small voice, became the showstopping anthem it should be. But the evening offered at least as much talk as music. She explained the title of her show, "The Edge of Everyday," as having been inspired by a phenomenon called "The Edge Effect"—the area between the field and the woods, between lightness and dark, or, as she puts it, "the place between choosing and choice" and where life is at its most creative. Bargman's show itself rode that at times uncomfortable edge between show and self-help workshop.
As for the self-help aspect, her theatrical training was perhaps more a hindrance than help. Bargman had such poise, her moves were so choreographed, and her patter/pitch was so fine-tuned, that it was hard to see beyond the polished veneer that she presented. Although she said that her experiences and study have shown her that "you can't come to know the light without also knowing the darkness," she so rarely showed us the darkness. Showing the duality, rather than talking about it, would be where art would thrive. Yet most of her musical material consisted of post-darkness, power-of-positive-thinking kind of sentiments, such as the songs cited above and "Change the World" (Tommy Sims, Gordon Kennedy, Wayne Kirkpatrick) and "I Can See Clearly Now" (Johnny Nash). Those kinds of songs work best when we see and feel the depths that came beforehand. At another point in the show, she said, "You've got to fall to pieces to let the pieces grow." Most likely true, Sandra. Now show us the pieces, not just the seamlessly repaired whole. This was attempted with the song "Dark" (Edwin Greines), but she had a hard time showing her vulnerability.
Bargman used lessons of the bumble bee throughout her patter, which also included a rather silly but energetic audience-participation on  "Be My Little Baby Bumble Bee" (Stanley Murphy, Henry I. Marshall), in which she pulled a couple of audience members up on stage to dance and shake their derrières (apparently the way a bumble bee attracts its mate). Later, she was prompted to share her motto: "Bee happy, bee wise, bee lieve, and bee yourself."
You may or may not buy into Bargman's brand of spirituality, but, to her credit, she possesses an enormous amount of skill, humor, and good intentions—she's a likeable performer, even if you're not buying the message. Her trio was top-notch, including the wonderful arrangements that musical director-pianist Ian Herman brought to those pop songs, John DeVore on bass, and the brilliant, minimalist sounds of Kahlil Kwame Bell on percussion. The lively and well-staged hour was directed by Shawn Moninger.
All in all, Bargman's show was both odd and admirable—and in one way or another, memorable.
"The Edge of Everyday"
The Duplex  –  November 2, November 21
Category: Reviews