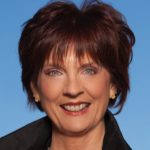 Sally Morgan took the stage at Don't Tell Mama looking great, with a twinkle in her eye that foretold a funny and mischievous streak. She was accompanied by pianist Frank Ponzio (except when she sat at the 88s herself); he played exquisitely throughout.
She opened her show, Sally Rides Again, with an original song, "Peace Blues." It was a call to arms that she wrote when George Herbert Walker Bush got us involved in the First Iraq War, and she invited the 2020 audience to make music (in another era, "make love, not war") and to join in through finger-popping, which was great fun. It drew the crowd to her agenda: she wanted us all to have a good time. Continuing on with "You'd Be Surprised" (Irving Berlin), she was playful and showed her naughtiness. In fact, that was something she did through much of the show. She drove her randy side home in both the intro and lyrics to "Bewitched, Bothered and Bewildered" (Rodgers & Hart).
Throughout, Morgan used a device that served her well: she would introduce her next song with the phrase "speaking of …" when she hadn't been "speaking of" that thing at all. It was so amusing, and it allowed her to sing a set without a unifying theme. "Speaking of Marilyn Monroe" was used to tell the story of the list Monroe kept of men she wanted to sleep with, which included Albert Einstein! This segued to Stephen Sondheim's "Sooner or Later."
The set included many beautiful songs, including "Blackbird" (Paul McCartney), "A House Is Not a Home" (Bacharach & David), and Claire Hamill's "You Take My Breath Away." Of her other Sally Morgan originals, her song "Mantra" fit her like a glove in every way. It sat vocally in just the right place for her, and the delivery was free of any of the physicalizing of singing she exhibited elsewhere.
Two songs had a common subject—food: the always-funny "One Meat Ball" (Hy Zaret, Lou Singer), which became another opportunity for audience participation, and the hilarious "Bacon" (Mary Liz McNamara), about addiction to a salty little comestible. Her delivery of the latter pushed too hard; considering how many people secretly harbor the same attraction, it could have stood a lighter touch.
I felt let down that while singing, Morgan consistently looked above the heads of the audience to the back of the room—in contrast to the patter between songs, when she looked into the eyes of the crowd and connected. Since many in the audience knew and loved her, I was curious about this lack of eye contact. I also wish she'd stayed put and not moved from center stage to upstage left for some songs; I'm not sure what this bought her. I felt the same about her leaving center stage to sit at the piano and accompany herself. Anything she did there, including Sondheim's "Green Finch and Linnet Bird," would have been more effective with Ponzio accompanying her.
Sally Morgan is obviously well liked, and why not? Funny, self-effacing, damned good lookin', and talented. The show wasn't a fine-tuned, directed piece of cabaret theatre; however it was entertaining, and the room was full of love and admiration.
Sally Rides Again
Don't Tell Mama – February 29
Category: Reviews