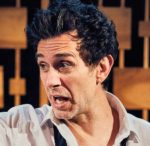 Like most comics who came of age in the middle of the last century, Lenny Bruce started out on a fairly conventional path. After coming home from the World War II Army, he took a job as emcee at the club where his entertainer mother, Sally Marr, was working. "Stealing material from my mother," as writer-actor Ronnie Marmo tells us in his remarkable one-man biographical play (directed by Joe Mantegna), Lenny competed in amateur nights in Greater New York, leading to Borscht Belt gigs and competing on the Arthur Godfrey's Talents Scouts television program in 1948. Increasingly working blue, then bluer than blue, he moved to California in 1951 with his new stripper wife, Honey Harlow, and played in Los Angeles strip clubs and burlesque houses, where his frequent obscenity was a bit less noticeable. At the same time, he aspired to be "a hip Jew version of James Dean." In 1959, Steve Allen introduced Lenny on his TV show as "the most shocking comedian of our time." In 1961, Lenny Bruce's one-man show packed Carnegie Hall. It was—perhaps inevitably—rapidly downhill for him from there.
Marmo opens his 90-minute show with himself as Lenny sitting naked on a toilet on August 3, 1966—a dramatic choice as shocking as much of Bruce's increasingly problematic material had been. No spoiler alert is necessary since it was national news that Lenny Bruce had died on that date, at age 40, lying naked at the foot of a toilet; Marmo closes his play with that scene. As Marmo brilliantly enacts, Lenny had increasingly moved from mere obscenity to social, political and anti-religious commentary, especially in the five years prior to his death. Hence his statement "Sometimes I'm funny, and sometimes I'm not" and his assertion—and this show's title—"I'm not a comedian…I'm Lenny Bruce." (His autobiography was titled How to Talk Dirty and Influence People.)
Bruce's intense topical rants presaged such performers as Shecky Green, Don Rickles, Richard Pryor, and George Carlin, and his use of such racial epithets as "micks", "wops," "spics," "greaseballs," and worse may have paved the road for a prime-time Archie Bunker. Although more conventional comics continued to admire him, usually secretly, for his passion and timing, Bruce's outspoken rants resulted in multiple lawsuits, trials, and incarcerations. Then there was his crippling drug addiction. "Shooting heroin," he contended, "is like a kiss from God."
Bearing only a slight physical resemblance to Lenny Bruce, Marmo has nonetheless captured his subject's voice and restless energy, drug-induced or not. I understand why he chose to concentrate on Lenny's rapidly declining years, with flashbacks to his earlier life, but I could have wished for a fuller progression from the groundbreaking, relatively sober entertainer (who recorded thirty comedy albums and influenced a couple of generations of his successors) to his pathetic end. Even in the portions of the piece relating to Bruce's swift decline I could have used a couple of fuller explanations: how, when, and why exactly did he get hooked on heroin? (As is, the play assumes facts that are not in evidence.) And with all of his baggage, how on earth did he gain custody of his daughter, Kitty, at a time when even sober, well-behaved fathers were almost never appointed the custodial parent?
Even as sole author and actor, Marmo didn't achieve this successful staging by himself. No choreographer is listed in the program, so perhaps we can credit Mantegna for his actor's seemingly non-stop, yet apt, stage movements. The design team here compensates for the lack of other players as foils—though on occasion, Marmo uses members of the audience effectively for that; the contributions of set- and lighting designer Matt Richter and sound designer Hope Bello LaRoux are especially notable.
I'm Not a Comedian…I'm Lenny Bruce
The Cutting Room – October 23 – December 30
Category: Reviews