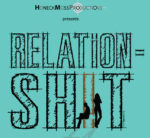 The theme of a revue can be a two-edged sword. When the song and humor work, it can be delightful, but without some thought of variation of story and/or a through line that brings us to some moral or message or climax, there can be too much repetition. While there were funny, and occasionally touching, moments in RELATIONSH!T, the new revue conceived, directed, and tech directed by Lisa Moss, recently at the Duplex, it is telling that the opening numbers could have been switched with the closing numbers with little or no effect on the show.
The songs were primarily written by new and noteworthy songwriters, many of whom have been featured in other composer showcases at the Duplex. The style and feel of the material landed in the country music vein more often than not; while this worked some of the time, it also underlined the often-stale take on love and romance that permeated the show. In 2018, one might expect there to be some fresh, surprising takes on the "I am woman, you are man" tropes of these relationship songs, but they were in scant supply, except in some of the expletive undeleted lyrics that landed awkwardly here and there. It was as if one went to a comedy show expecting the likes of Dave Chappelle and Kristen Wiig and ended up with Henny Youngman and Phyllis Diller.
This reached its nadir in an uncomfortably misogynistic duet called "Like My Dog" (Harley Allen, Scotty Emerick) in which Tim Marriott and Michael Andrew Daly sang of their preference for their canine companions over the women in their lives. However, the evening offered several bright moments and very good performances. Daly was better served early on in a duet with Ali Gordon on "Anyone But You" (David Ippolito), and Marriott had fun with Becky Geggatt pairing on "I'm Still a Guy" (Brad Paisley, Kelley Lovelace, Lee Thomas Miller).
Sasha Weiss stole the show whenever she took the spotlight. Admittedly she had the two best songs of the night—"The Thing About Dylan" (Doug Katsaros, Amanda Yesnowitz) and "Empathy" (Joel Waggoner)—but she invested them with everything one could wish for. Geggatt stopped the show with an understated "With Pen in Hand" (Bobby Goldsboro) that burned with quiet fire and surprising emotional heft. Katie Bland made "Sacrifice of Love" (Joshua H. Cohen's ode to a bikini wax) shine brighter than one would have thought possible.
Music director Andrew David Sotomayor opened the show on a high note with a solo turn on a "Loneliness Medley," and throughout the evening handled the various styles well and contributed fine vocals. Lisa Moss's work with the individual songs and singers was accomplished, but the staging was problematic: there was an assembly-line stream of lights up/singer center stage/song ends/lights down/repeat with different singer. The show was inexplicably and distractingly dark, which was the wrong lighting choice for primarily comedic songs. In the finale, "Runaround Sue" (Dion DiMucci, Ernie Maresca), the entire cast surrounded the piano and sang back up to Sotomayor. The lights were bright and it felt as though a weight had been lifted from the whole production, and nothing stood in the way of our enjoyment of the number.
RELATIONSH!T
The Duplex – January 20, February 1
Category: Reviews