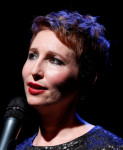 If Off-Broadway's recent one-woman musical Pat Kirkwood is Angry (directed by Lee Blakely) did nothing else, it certainly brought the late British music star Kirkwood to the greater attention of a number of American theatergoers. I knew of Kirkwood only because of the song "Love on a Greyhound Bus" (Ralph Blane, Kay Thompson, George Stoll), which she sang in the 1946 American film No Love, No Leave. But Kirkwood had a whole other professional life in music halls, West End theatres, and British films and television.
Jessica Walker (herself a Briton, from Manchester) wrote the script and also portrayed Kirkwood in the show. Her portrayal of Kirkwood was consistent and nuanced. She proved to be a winning onstage presence—especially in sequences that gave her the opportunity to be plucky and/or drolly comic. Accompanied by the able Joseph Atkins at piano, she was effective in performing an array of musical numbers associated with Kirkwood, ranging from a lilting English-language version of Charles Gounod's "Faites-lui mes aveux" (from Faust) to Noël Coward's torchy "My Kind of Man" to the Latin American–flavored novelty song "Hold It, Joe" (Eric Maschwitz, George Melachrino).
Kirkwood's story was presented as a sort of autobiographical cabaret act from the beyond, performed not long after the singer's death. Cards denoting particular years were flipped periodically as the timeline progressed from 1921 (Kirkwood's birth year) to 2007 (the date of her passing). In no time at all, Walker-as-Kirkwood zipped through the performer's early career years, beginning with her debut at the Salford Hippodrome when she was 15. Things felt a bit rushed and frantic in the first 10 minutes or so, but there was much ground yet to be covered, including not only Kirkwood's career highlights but also her four marriages (three of which were not particularly happy ones). Oh, yes, and a Royal scandal.
The main dramaturgical problem with Pat Kirkwood Is Angry is hinted at in that title. As presented by Walker, Kirkwood came off as a bitter, extremely frustrated person, and Walker didn't aim to provide much, if any, dramatic redemption or resolution for her. That made the show a decidedly downbeat experience, at least for me.
Granted, Kirkwood had plenty to be steamed about, including repercussions from the aforementioned scandal—an incident in which she danced all night with Prince Philip at the very time Queen Elizabeth II was pregnant with Prince Charles. Throughout her life (and throughout the show) Kirkwood swore that nothing untoward happened that evening, but nonetheless the star was labeled a tramp by the British public. The incident negatively affected her career for decades.
But even before that night with the prince, there had been heartache for Kirkwood. Her brief Hollywood excursion had landed her in a psychiatric ward—perhaps because she'd been fed thyroid pills to keep her thin, or perhaps because she suffered from some unidentified psychological malady. Walker made clear that Kirkwood's father was mostly absent and that her mother was a British variation on Gypsy's Madame Rose: a woman who pushed her daughter into showbiz while simultaneously insisting that the girl was plain. But Walker blamed neither parent fully for Kirkwood's unhappiness. She suggested that it was an accumulation of misfortunes that left Kirkwood's psyche wounded.
Some brief moments of joy in the character's life were depicted. One of Kirkwood's marriages—to a retired ship owner nicknamed Sparky—was rhapsodic, until he died early in the marriage. In one telling sequence, Walker sang "You've Done Something to My Heart" (Frank Eyton, Ian Grant, Noel Gay), first to Sparky and then to the audience. The public seems to have been her primary love interest after Sparky, and clearly much of her late-career anger was directed toward a fickle audience. In the last sequences of the show, Walker played Kirkwood as a shuffling old woman, filled with envy toward better-loved performers and dismay with a public that neglected her. In a depiction of Kirkwood's final public performance in 1994, Walker sang Cole Porter's "Begin the Beguine" in a haunting and sad voice. She held the last note as long as possible, as though trying to keep the music—and her career—from coming to an end. Heartbreaking? Certainly. And yet it is not especially easy or natural to connect emotionally with someone so very needy, so desperate for the limelight.
I certainly wouldn't want Walker to tack on a happy ending just to keep the audience chipper at curtain call. If Pat Kirkwood was angry—or sad or clinically depressed—so be it. But I wish Walker could give the post-mortal Kirkwood some manner of refuge, some emotional sanctuary she could visit at one point to get out of the storm that was her life and feel something for a moment besides scorn and futility. Doing so, Walker might edge the show away from the pathetic and move it gingerly toward the poignant.
Brits Off Broadway at 59E59 Theaters – June 10 – 29
Category: Reviews