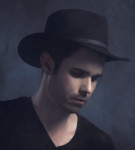 Seeing Matthew Connor at Rockwood Music Hall (the terrific multiplex of music rooms in the East Village) I was reminded of the first time I saw Tom Waits at the much-missed Bottom Line. Waits adopted a complete persona for the stage. Someone coming in unaware would have thought that a derelict had wandered into the room from the nearby Bowery and seated himself at the piano. Worn-out, dirty clothes, scraggly beard, even scragglier voice, cigarette hanging out of his mouth, drink on the piano, he shared his view of life from that stage in unforgettable ways. While Connor has not yet fully realized as distinct a character to inhabit the stage, he's on his way to something very special. The style and substance of his persona and material are vastly different from Waits's, but he, too, possesses the ability to create a character that in its artifice manages to illuminate not only the stories he sings (and writes) but also the person underneath.
His deep singing voice has a hauntingly rich resonance and seductive sensuality that conjure up elegant lounges and world-weary heartbreak. His literate, slightly off-kilter and totally winning songs enhance this mysterious, evocative sound. The one thing missing in the show I saw was a visual to accompany all this. What we saw was an attractive young man in jeans and a black t-shirt playing guitar or piano but if you closed your eyes, you would imagine a new generation's take on the elegant sophistication of smoky nightclubs and days gone by. He's closer to that image in his terrific new video for "How Is July Already Over?"
But the crystallization of an appropriate visual component is something to look forward to in the future. What we have at present is an exciting new (and out) singer/songwriter coming into his own. I caught him at Rockwood in the doggiest dog days of summer, with a smaller-than-expected audience. Taking his cue from the size of the house, Connor chose to do a lot of new material—in fact, he did just one song from his latest CD, "Farewell Motel": his opening number, "Midnight Blue," about the aftermath of a break-up, with the refrain, "I'm still alive and, somewhere, so are you…" The voice that had greeted us appreciatively was gentle and charming, but when he sang, the richness of that voice gave the song an almost otherworldly, hypnotic sheen that brought us completely into the life of the song. He is, at times, a kind of reverse Roy Orbison; where Orbison would slide deliriously up to the heights with his passionate, almost eerie sound, Connor goes in the opposite direction and descends to shadowy, evocative low notes that somehow achieve a similar effect.
In subsequent songs, like "Burden of Proof" and, especially, "Only Physical," he embraces a very modern and direct take on sexuality that belies the classic formality of the sound. It's a winning juxtaposition, especially with the literary bent of a lot of his lyrics. He conjures images the way a great short story would; in "Only Physical" he sings of a sweaty encounter, "The phone number on your hand streamed down my back…"
Matthew Connor's songs are rich in story, character, and imagery, and that incredible voice deepens them at every turn. I particularly liked the last song of the evening, with the singer on piano. Telling us in his introduction that as a 5-year old boy, before his parents' "divorce apocalypse," he would sneak down to the living room late at night and perform wedding ceremonies for his male action figures. This leads us into "Batman & Robin," a love story between two superhero dolls that manages to morph into a sweet and moving meditation on the desire for the passion and security of true love—heady stuff from a performer on the rise.
While he probably won't be back to the city for a while, he is at work on a new EP and new CD (to be released shortly) and a number of videos for his new songs. He's now in his hometown of Boston putting together a band for his next tour. I can't wait to hear him with a full orchestra, strings and all, to complete the picture he has already begun. Try to catch him when you can, and one day you'll find yourself reminiscing (as I did about Tom Waits earlier) that you got to witness the birth of a star.
Rockwood Music Hall  –  August 12
Category: Reviews