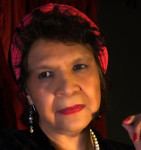 Mabel Madness – The Life of Mabel Mercer is a one-woman show written by and starring Trezana Beverley, the Tony-winning star of For Colored Girls Who Have Considered Suicide When the Rainbow Is Enuf. Mercer, one of the most influential vocalists in all of music and also one of the least known by the general public, pretty much created the conversational, story- and lyric-driven style that to this day finds voice in good cabaret shows and concerts.  If a singer is inspired by the recordings of Frank Sinatra, Lena Horne, Tony Bennett, or hundreds of others, that singer owes a debt to Mabel Mercer. Beverley counts herself an acolyte of the singer and set out to capture a bit of her life for a public that remains unknowing or indifferent.
With clean, effective direction by Peter Napolitano and Frances Hill and a well-chosen selection of the songs from the Mercer canon (plus two original numbers by Napolitano and Barry Levitt), Mabel Madness weaves a powerful spell on the tiny stage, aided immeasurably by Tabitha Pease's simple, effective set, and especially by video designer Nicholas Blade Guldner's slide work which manages to quietly conjure the singer's childhood Cardiff home, various boîtes in Paris and New York, and a concert hall or two. Beverley is often uncanny at capturing the sound and look of the woman, but it is her solid, unerring sense of character and her consummate acting skills that really make the evening memorable.
The action takes place in Mercer's New York apartment on a night late in her career as she awaits the arrival of Donald Smith, the young fan who has become her manager and booked her "comeback" around the world. She is convinced that he is going to sever their relationship because time and life have taken their toll on her voice and she can't understand why anyone would want to listen to her anymore. As she prepares to go out, she searches a trunk for something to wear, and bits of clothing and memorabilia inspire reminiscences that whisk us away to Cardiff, to London, to Paris at the rise of the Nazis, and leading to her move to New York. A minor quibble here with the interpretation of Smith: anyone who knew him would never recognize the voice that Beverley chooses for him. It's a bit jarring to hear the founder of the Mabel Mercer Foundation sounding as though he's ordering a beer at a football game on a Sunday afternoon.
The play spends perhaps a bit too much time on Mercer's childhood with her self-obsessed actress mother (who is white) and her absent father (who is black) and the kindly grandmother who raises the mulatto child in a world that is neither kind nor understanding. We see a lot of this early life at the expense of the more individual and unique life she had once she became established. There is much more to be mined in her years as a star on both sides of the Atlantic; what the show presents from that period in her life is intriguing and at times moving.
There is a wonderful thread of name-dropping, which is totally appropriate given her influence on singers. Marlene Dietrich, Cole Porter, Bricktop, and Frank Sinatra are but a few of those who make an appearance. At one point, the actress creates an understated, totally charming duet between Sinatra and Mercer as she shows him how to phrase Porter's "Just One of Those Things." We briefly meet the gay man who married her, then the true love of her life, and of course Bobby Short.
Beverley has an expressive voice that fits the material beautifully. She never mimics, but allows the character she has created to inhabit the songs. It might have been more effective to have the piano and pianist visible. As it is, the accompaniment has a mechanical sound that makes it sound pre-recorded. The show and the fine playing by musical director Tuffus Zimbabwe deserve better. The show opens with one of the originals, "The Song Is My Story," which is both lyrically and musically evocative of the type of cabaret song at which Mercer excelled. The other original, "Mabel Madness," does not fare as well—it is too generic and "show-tuney" in these surroundings, and gives Beverley too little to work with at a climactic moment in the show. The play is much better served by the Cole Porter choices "Down in the Depths (On The Ninetieth Floor)" and "Love for Sale," as well as by "Let Me Love You" (Jay Livingston, Ray Evans) and a lovely find, "You Will Wear Velvet" (Douglas Cross, George Cory from the LP "The Art of Mabel Mercer").
Mabel Madness would be worth seeing just for Trezana Beverley's dazzling performance, but it offers much more than that. It deserves a healthy run and perhaps a future, expanded production.
Urban Stages  –  February 19 – April 10
Category: Reviews