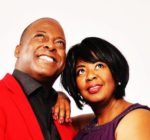 Trent Armand Kendall and Natasha Yvette Williams are terrific singers with lengthy theatre credits, and the idea of them singing songs made famous by Louis Armstrong and Ella Fitzgerald is very promising. Unfortunately, in Louis-and-Ella! (written by Kendall) at the Cutting Room, they were awash in a conceptual sea. Classifying the show as a "jazzical" in the production's promotional copy is the too-cute tip of a convoluted and strained iceberg.
A brief description is a difficult proposition, but I will try. The premise is that the two jazz icons have been trapped in limbo since their deaths, and grappling with the regrets and pain of their lives has kept them prisoners who no longer even remember who they are. Enter Angel #1 and Angel #2, who, to gain favor in God's eyes, are tasked with getting them to remember and accept the good in their lives so that Armstrong and Fitzgerald can get into heaven. The angels' plan is to embody the jazz legends and perform a concert, not only for the audience but also for the deity. When they began Irving Berlin's "Cheek to Cheek," the line "Heaven, I'm in heaven…" was treated literally, with eyes raised to the ceiling.
This angelic conceit allowed Kendall and Williams to open and close the show with gospel/R&B numbers that showed off some of their strengths, but seemed out of place in a show about Louis and Ella. When we did get to the actual jazz repertoire, the selections were for the most part performed once through; they seemed to have been truncated to make room for the "plot." The songs might have been able to breathe a little if director Jeff Whiting had cut a lengthy and pointless audience participation bit involving the singers trying to teach the audience how to scat.
Kendall presented a partial impersonation, with gravelly vocals and ever-present white hankie to wipe his brow. Williams, however, sang Fitzgerald in her own voice, not attempting to duplicate the original sound. This discrepancy in performance styles between Kendall and Williams added to the confusion and got in the way of the otherwise well-sung classics from Armstrong and Fitzgerald's solo and duet repertoires.
For the sake of drama, there was an antagonistic relationship set up between the two that was never explained and served little purpose except to allow a few saccharine reconciliation moments, including some embarrassing attempts by lecherous Louis to kiss straight-laced Ella. As far as I know, their relationship never went in that direction, and elsewhere the two spoke longingly of lost spouses.
The angels constantly broke character and addressed the audience with biographical tidbits before resuming their impersonations. The material, itself, was interesting, and in other circumstances would have been welcome, but the presentation was forced. There were choreographed moments that seemed totally out of character, and even if one were to accept that the two stars had picked up dancing in purgatory, a Charleston did not seem the appropriate style to accompany the aforementioned "Cheek to Cheek."
I would gladly have spent an hour or so in a club listening to these marvelous songs given their due by two talented singers. Moments of what that might have been peeked through here and there in Louis-and-Ella!, but in this production, the pleasure they provided was bittersweet.
The Cutting Room – March 5
Category: Reviews