It is often quite easy, even in pandemic times, to think that New York City is not only the center of the Universe but the Universe itself—especially when it comes to music, whether it be cabaret, theatre, or jazz. I am happy to report that Sharón Clark: By Special Request (presented as part of pianist Chris Grasso's Blue House Live series) is not only a terrifically entertaining concert in its own right, but also a perfect reminder that great music can be made anywhere there are musicians and singers with talent.  One of the few benefits of this pandemic is that performers the world over are presenting their art virtually, and because of that, increasing their audiences (or at least their access) to worldwide proportions.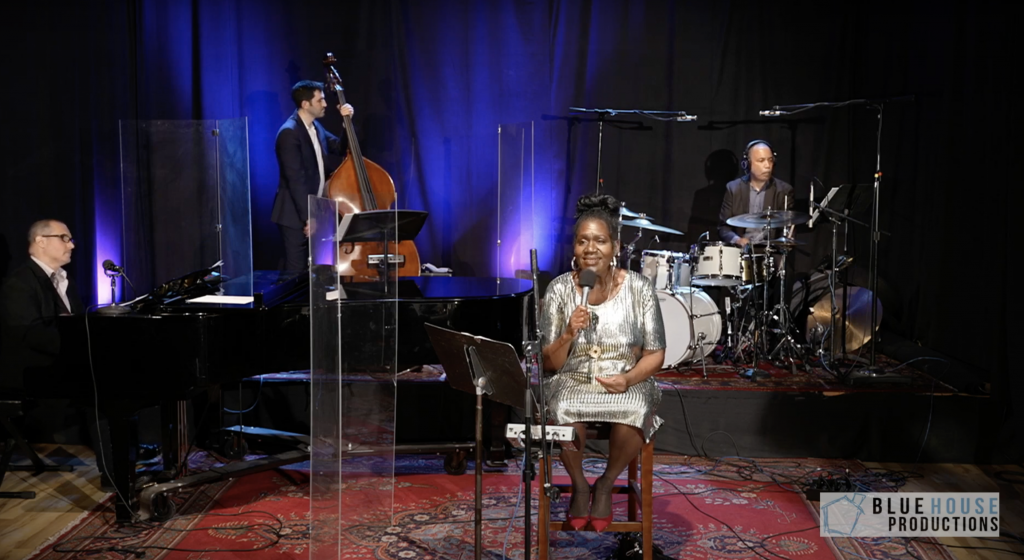 Sharón Clark is well worth the additional attention.  She has a relaxed, intelligent style and effortless, understated swing that illuminate her set of mostly standards in captivating ways.  The opener is a laid back "We've Got a World That Swings" (Lil Mattis, Louis Brown) that bubbles with insinuating rhythm that is sure to win over audiences immediately. Explaining that the material showcased has been requested in advance by family and friends, she follows with "I'll Remember April" (Gene de Paul, Patricia Johnston, Don Raye) punctuated with some delightful scat that is beholden to no one else.  She obviously delights in luxuriating in the music. Her "Sophisticated Lady" (Duke Ellington, Irving Mills, Mitchell Parish) is perhaps the saddest version of the song I have ever heard and it is all the stronger for that emotional underpinning.  Her take on "Time After Time" (Jule Styne, Sammy Cahn) dusts off the old warhorse and serves it up shiny and spanking new.  Her trio (Grasso on piano, Blake Meister on bass, and Lenny Robinson on drums) really shines here, investing the song with an abundance of vitality and style.
"Hey Joe" (songwriting credit contested), famously recorded and sung by Jimi Hendrix, is an unexpected surprise.  There aren't a lot of singers who could successfully segue from Cole Porter's "Miss Otis Regrets"  to Hendrix, but Clark does it with ease and even manages to bring Miss Otis back into "Hey Joe."  She includes the rarely sung "Nobody Home" (Loonis McGlohon) and it is the emotional highpoint of the set—a haunting, heartbreaking rumination on memory and trying to carry on in the face of change. The trio is once again in complete sync with the singer.  A cooler than cool "Green Dolphin Street" (Bronislaw Kaper, Ned Washington) changes things up nicely with blistering instrumental solos and a strong, sure vocal. Coming near the end of the concert, "Memories of You" (Eubie Blake, Andy Razaf) serves as a gorgeous, warmly emotional hug from the singer.  The set ends with the celebration and the promise of "A Lot of Livin' to Do" (Charles Strouse, Lee Adams) that is guaranteed to bring a smile to your face and tap to your toe.  
Sharón Clark is the real deal.  I feel so lucky to have been recruited to the ranks of her fans in the midst of the madness the world is offering at the moment.  She makes it all look so easy; she makes it all sound so good.
*****
Ed. Note: Sharón Clark: by Special Request, Volume Two can been seen as part of Chris Grasso's Blue House Live Series on YouTube and Facebook for a limited time only:
www.facebook.com/bluehousestream 
Category: News / Reviews / Commentary