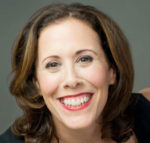 At the Metropolitan Room, Lisa Yaeger's new show, Jersey Girl, is not only a tribute to her place of birth and current residence, but also a celebration of the musical legends that the state has given the world. It's a simple but effective premise, offering the singer a great variety of musical styles and genres to choose from, with a "cast of characters" that includes Frank Sinatra, Whitney Houston, Janis Ian, Sarah Vaughan, and Bruce Springsteen.
The variety of material has allowed music director Rick Jensen to come up with consistently inventive arrangements, and in addition to his fine playing, he provides a sparkling showcase for Sean Conly on bass and, especially, Stever Bargonetti on guitar. Director Lina Koutrakis keeps the show moving at a bright pace. Yaeger's patter reveals the singer's connections to the artists included and provides a bit of historical context, but on opening night, it was delivered in a too-bubbly, sing-songy way. A milder, more conversational delivery would be more effective and personal.
Yaeger has a big, Céline Dion-type voice that she lets loose on these songs, at times in exciting ways. When she is not singing full-out, she sings with a hushed, breathy sound that can also be quite effective. However, she ignores whatever colors might be hiding between those two extremes. And since she limits her sound to that pallette, her delivery becomes declarative rather than thoughtful, in-your-face rather than subtle. It is a sad sign of our times that the Pavlovian response of an audience to volume rather than lyric sensitivity has been nurtured by shows like American Idol and The Voice. Yaeger falls victim to this need to please a less-than-discerning public a bit too often.
That said, there are a number of pleasures to be found in Jersey Girl. It is nice to hear the words of Phoebe Snow's "Poetry Man" without Snow's quirky delivery and persona. A fun callback to Connie Francis with "Fallin'" (Neil Sedaka, Howard Greenfield) is a comic highlight. Another is a sweetly silly delight called "Crocodile Song" by Janis Ian. She does quite well with the few Great American Songbook entries she's included, in particular "You Turned the Tables on Me" (Louis Alter, Sidney D. Mitchell). Her initial attack on Springsteen's "4th of July, Asbury Park (Sandy)" is inviting, but she tries a bit too hard to stress the drama and loses the visual poetry of the pictures that the lyrics paint.
The song selection can't be faulted, but there are disappointments in the way some of them are approached. Mary Chapin Carpenter's lovely, romantic reminiscence "This Shirt" seems hard and rushed. Bacharach and David's "One Less Bell to Answer" would seem an ideal choice, but it is given an oddly ragged and truncated treatment. "Summer Wind" (Heinz Meier, Johnny Mercer) begins nicely, but the singer gets bigger and bigger with the sound until, by the time she reaches the line "guess who sighs his lullabies," it is blasted (counter-intuitively) rather than sung softly and emotionally.
A bit more time spent allowing her performance to breathe and a bit more interest in exploring some of the stories she has chosen to tell, would help Yaeger better deliver on the promise that is already on display in this show.
Jersey Girl
Metropolitan Room – June 2, 21
Category: Reviews