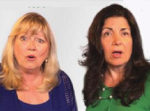 Two suburban ladies of a certain age studied theatre in college, on separate coasts, some 40 years ago. They each worked in show business for a few years after graduation, but marriage, motherhood and career changes kept them from their goal of finding work in musicals among the lights of Broadway. About two years ago, they decided to have another go at singing professionally in New York. Together they took classes and worked with seasoned mentors, Kenneth Gartman chief among them. The result, so far, is this dual autobiographical club act, called What the Hell is Cabaret? Gartman serves as its director, musical director, pianist, arranger, and sometime singer.
The narrative setup is somewhat clunky. Supposedly, the two women, Linda Kahn and Maria Corsaro, have commuted from their Westchester and Connecticut suburbs and arrived at the venue, the Laurie Beechman Theatre, for an audition for retired singers who want to return to the business. Gartman arrives at the same time, thinking he has the space all to himself, to work on his piano playing. Without much motivation, other than noting that the headshots the women have brought with them were clearly taken in the 1970s, he agrees to accompany them for half-an-hour, to help them see where they stand. Even less believable, when Gartman gently suggests they pursue cabaret in lieu of musical theatre, they ask—in unison—"What the hell is cabaret?" And we thought they were educated and at least familiar with entertainment.
Nonetheless, Gartman begins his volunteer mini-master class by sensibly explaining to Corsaro, who is up first, that her introductory patter to Irving Berlin's "Let Me Sing and I'll Be Happy" (simply stating the song's title and its composer) just won't do. "Patter is not just about the song," he cautions, "it's about preparing yourself to perform it and the audience to receive it." Whereupon she recites a well-prepared and memorized autobiographical set piece that accomplishes exactly what it should. It's clear from her singing that she and Kahn, who solos next on "As If We Never Said Goodbye" (Andrew Lloyd Webber, Don Black, Christopher Hampton), still have the singing voices to pursue their belated dream. But to save time, Gartman cuts Kahn off in the middle of a creditable rendition of the song from Sunset Boulevard. Yet, two songs later, he allows Corsaro to finish an excessively long rendition of Berlin's "I Got the Sun in the Morning."
All three participants combine to sing a lively mission statement: "Make Your Own Party" (Marcy Heisler, Zina Goldrich), and Kahn solos on Ron Abel's slowed-down arrangement of "Hey, Look Me Over" (Cy Coleman, Carolyn Leigh). The promised half-hour of assessment ends with the women's first duet, "What Kind of Girl Is She?" (Jeff Bowen), backed by pre-recorded piano while Gartman changes into performance clothes, having awkwardly excused himself to go to the restroom. When he returns to the stage in dress togs, he is soon followed by Tom Hubbard, who will play bass, and Matt Vander Ende, who will be on drums. Corsaro and Kahn change into sequined tops behind a screen and now we're off on the real cabaret portion of the program.
It begins well, with a mashup of "Autumn Leaves" (Joseph Kosma, Johnny Mercer), largely sung by Kahn, and "When October Goes" (Barry Manilow, Mercer), a mostly-Corsaro solo. This mashup's been done before, but it reinforces the two women's ability to sing together, and does give Hubbard and his bass a nice solo spot.
Kahn and Corsaro have fun with the rambunctious "No More Tears (Enough Is Enough)" (Paul Jabara, Bruce Roberts), though there seems little reason to resurrect this Barbra Streisand-Donna Summer duet from 1979—unless there's a relevant story behind it we are not hearing. Other choices in the "real" cabaret set are arguable, but none more so than the encore, "Die Vampire, Die!" (Jeff Bowen). In this song, the vampires are internal blocks that prevent us from pursuing our dreams and must be destroyed. I thought the women had established early in the show that they have overcome any hesitation and have decided to go for it. If not, they should have done so, perhaps with this song, and chosen an encore that says something like "boy, are we where we belong—at last."
At the curtain calls, Gartman expounded on the workshop process the trio went through to arrive at this tentative show. But the one aspect of cabaret he never mentions, and its single most defining quality, is the uniquely intimate direct connection between artist(s) and audience. Like some duos that have not previously worked together, Kahn and Corsaro at times seem to be playing to one another, or to Gartman, and not quite to the audience. I'm not sure that this show's title question is ever really answered here. The show itself still seems like a work in progress, and that isn't cabaret; it's merely cabaret-adjacent.
What the Hell is Cabaret?
Laurie Beechman Theatre – May 21, 23, June 20, 24
Category: Reviews