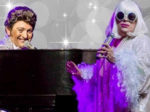 Showbiz mavens of a certain age will likely chortle nonstop during "Lee Squared," the show created by David Maiocco and Chuck Sweeney and currently playing at the Metropolitan Room. The pair portray, respectively, Liberace and Peggy Lee, in what can scarcely be called a tribute. (Ms. Lee, at least, has already had her deserved share of those.) First, about that title: The flamboyant piano player, né Wladziu (Walter) Valentino Liberace, was always called "Lee" by his legion of friends; the iconic singer, née Norma Deloris Egstrom, was sometimes called "Miss Peggy Lee," even by her friends. (That sobriquet was also the title of her autobiography, and the inspiration for a certain blonde, self-involved Muppet.) These two Lees were born a year apart and had roughly the same heydays, hers dating from the early 1940s, his from the 1950s, and both well into the 1980s. Counting their amateur and training years, as "Peggy" says on stage, "we have the combined experience of 113 years." But those current cabaret goers who wouldn't be able to remember even one of those years, and may know of these Lees only from a YouTube distance, will at the very least titter in recognition of some more recent entertainers who are better known for outrageous style over substance, or, especially in their later years, narcissism over nuance. (I name no names here.)
The success of "Lee Squared" is due to the exceptional portrayals by Maiocco, who plays the piano at least as well as Liberace ever did and has his accent down pat, and Sweeney, whose singing and speaking voice comes uncannily close to Peggy Lee's. Of necessity, the satirized pair's trademark props, actions, and spoken lines are kept to a minimum. "Liberace" does offer two quotes regarding his ensembles: "Excuse me while I change into something even more spectacular" and "I didn't get dressed up like this to go unnoticed." (I did, however, greatly miss his even more memorable assertion: "You know that bank I used to laugh all the way to? I bought it!") But here Maiocco makes only a single costume change, albeit into one that is even more spectacular. He does have a token candelabra on his piano, but there's no driving a car onto, or flying on wires over, the Metropolitan Room stage.
When the more-or-less ageless "Liberace" starts the proceedings, it's with a histrionic smidgen of his beloved and trademark Tchaikovsky, followed by singing "There'll Be Some Changes Made" (W. Benton Overstreet, Billy Higgins) and another instrumental showcase: "Bumble Boogie" (Jack Fina's adaptation of Rimsky-Korsakov's "Flight of the Bumblebee"). When "Peggy Lee" takes the stage, in platinum wig and large, round, very dark glasses, and newly "sprung from assisted living," she launches credibly into the usual suspects: "Fever" (Eddie Cooley, John Davenport), "It's a Good Day" (Dave Barbour, Lee), "I'm a Woman"" (Leiber & Stoller), and, of course, "Is That All There Is?" (Leiber & Stoller).
Maiocco's Liberace then solos with a snappy and inventive "Mack the Knife" (Kurt Weill), at first playing it in the familiar straight version, then as a melding with "The Blue Danube" waltz (Johann Strauss), then as Mozart might have written it, and finally back to a boogie-woogie interpretation. He later sings "The Party's Over" (Jule Styne, Comden & Green), somewhat shortened to make room for a mashup with a piece by Chopin, his other go-to classical composer.
Maiocco plays piano for all of Sweeney's songs but one, which the latter does "live to track," and their conversational interplay is quite funny. A pretend party sequence gives Sweeney the chance to do his dead-on impressions of some of the two Lees' mutual friends and contemporaries, such as Eartha Kitt. Phyllis Diller, and Joan Rivers. The format of the show gives each Lee the chance to do extended solo turns. Indeed, with one unfortunate exception, noted below, the two Lees perform only one vocal "collaboration" that could be described as such: their encore medley of "Rainbow" (Russ Hamilton) and "I'll Be Seeing You" (Sammy Fain, Irving Kahal), Liberace's signature closing song. More such duet performances would be most welcome.
My only serious quibble with this show is its inclusion of material and references that postdate the title pairs' deaths, especially their hip-hop, dancing "Modern Medley," a mashup of such unmemorable, irrelevant, and demeaning selections as "Bust Your Windows," "Watch Me (Whip/Nae Nae)," and "Uptown Funk." I also found problematic such references as Liberace's "auditioning for Cirque du Soleil" and Peggy Lee's "not having a Mariah [Carey] moment" when singing to a recording.
I will give them one quasi-anachronism, however. There's no evidence that in their real careers the two Lees ever performed live together, but it's okay by me that Liberace, the ultimate mid-century mama's boy whose core fan base was older women, should inspire Maiocco, noting the boisterously appreciative mixed audience, to crack, "You see, Peg, men do come to our concerts!"
Men, women, and even some children should try to take in this one.
Metropolitan Room – September 2, November 25, December 21, January 13, February 17, March 24
Category: Reviews