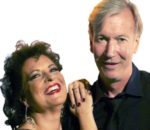 In a time when most marriages don't last 25 years, it can be comforting to celebrate the silver anniversary of any quarter-century collaboration, in business or elsewhere. It's even better when everyone attending the party is clearly thrilled that the two principals have stayed together for two-and-a-half decades, and are still creating beautiful music. In this case, literally. Jazz singer Laurie Krauz and pianist Daryl Kojak first met in 1991, on the musicians' equivalent of a blind date, through mutual players. Back then, the World Wide Web was just about to be launched, and Krauz "still had the hip I was born with."  In the years since, she and Kojak have performed together in a variety of shows in a wide variety of venues. "We just like to make music," she explained. "We're not fancy about it." A packed audience at their one-night-only show at the Metropolitan Room was raucously okay with that, and the fact that the pair was going to perform a dozen favorite songs from their joint body of work over the past 25 years. No other theme, through-line or subtext was necessary.
Krauz is blessed with a rich and wide-ranging voice that soared and growled and did everything in between that was required for this show's multi-sourced set, and her frequently heard scatting ability may be unparalleled among living singers. Kojak, similarly, is a master of scope and nuance in his playing and arranging, reaching from lusciously understated support when the lyrics are the thing, as in this set's "A House Is Not a Home" (Burt Bacharach, Hal David) paired with its twin-themed "Since You Stayed Here" (Peter Larson, Josh Rubins), to his all-out syncopated solo in "You've Got a Friend" (Gerry Goffin, Carole King), the one selection from "Tapestry Rewoven," the duo's award-winning re-imagining of the Carole King iconic album "Tapestry." When a more-or-less equal balance between piano and voice was called for, as in the raunchy blues number "Send Me a Man" (composer unknown, but made indelible by Alberta Hunter), Krauz and Kojak traded the forefront back and forth like, well, an old married couple. He even contributed two of his own compositions to the show: "Birthday Blues" and "Duck Soup."
Neither Kojak song had a lyric, but none was necessary, as Krauz scatted and bopped her way throughout both, even quacking, I swear, on the latter song, by the end of which she had induced the entire audience to "bee-yoop" along for a final chorus. As she'd probably be the first to admit, subtlety is not Krauz's strong point, either vocally or when it comes to her hand and arm movements. But what she did offer in this show, in addition to her admirable vocal dexterity, was a driving intensity that could at times lead to an uncustomary but valid anger in her interpretations of such usually more resigned songs as "Just One of Those Things" (Cole Porter) and "I Will Wait for You" (Michel Legrand, Norman Gimbel). Krauz could also play it more or less straight, as she did in her moving "Some Enchanted Evening" (Rodgers & Hammerstein).
As seamless as the two principals were together, they also had superb support from two longtime and frequent collaborators, Sean Conly on bass and Gene Lewin on drums. Conly's rich underpinning was evident from the show's opening number, "Never Never Land" (Jule Styne, Comden & Green). Lewin's melodic drums added particular heft to the second song in the set, "Birthday Blues." Both men richly added to the rendition of the rambunctious "Key to [Your] Ferrari" (Thomas Dolby). A slowish version of "The Glory of Love" (Billy Hill) served as the show's finale, and Krauz extracted every drop of meaning from its lyrics. While the Shirley Horn anthem "Here's to Life" (Artie Butler, Phyllis Molinary) has become something of a show-ending cabaret cliché, as Krauz and Kojak's encore number, it at least received a new presentation, if not exactly a new interpretation.
Laurie Krauz & Daryl Kojak Celebrate 25 Years of Making Music
Metropolitan Room – May 13
Category: Reviews