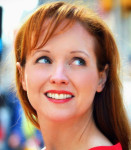 When Lauren Stanford was developing her portrayal of Helen Morgan for her cabaret show "More Than You Know," she must have paid special attention to lyrics from Louis Alter and Arthur Swanstrom's song "(I've Got) Sand in My Shoes." The song's verse begins with the line "You see me smiling, but it's not with my eyes." As I watched Stanford as Morgan, that very phenomenon materialized—well before she sang "Sand in My Shoes." Her smile seemed convincingly warm and even confident. But it was eclipsed by her eyes, which were shot through with worry and doubt.
Written by Stanford, this is a very special show: an intimate portrait of a star who has mostly faded from the public's consciousness. Stanford—who won the 2013 MetroStar Talent Challenge at the Metropolitan Room—has been developing the project for some time. Prior to this 54 Below incarnation, she performed versions of the show at other venues and with other creative personnel. For this round, her director was Eric Michael Gillett. Dan Furman served as her musical director and also appeared at the keyboard as Morgan's pianist, Leslie "Hutch" Hutchison.
The piece is set in 1932 New York, where—Prohibition notwithstanding—Morgan is drinking her way through the final performance of an engagement at the Simplon Club. She reveals to the audience that this will be not only the last night of this particular gig but also her final singing engagement, anywhere ever. In reality, Morgan would go on performing right up to the time of her death, in 1941. By the end of the evening, the show makes it clear why Morgan wound up putting off her retirement plans.
It would of course be instructive (not to mention amazing) to somehow experience what a club performance featuring the real Helen Morgan was like. There are some YouTube clips available of her singing (and not just in her role as Julie in the 1936 film of Show Boat), but they don't give a full sense of what her interaction with audiences in smoky clubs would have been like. In Stanford's interpretation, Morgan is voluble, with a sly and tangy but erratic wit. She has no apparatus in place to filter out her risky confidences to audiences about her drinking habits and her love life. She's aware that her tendency to blab gets her in trouble, but she can't seem to stop herself. At one point in the show, Hutch provides musical cues to try to get her to stop talking and sing something. But to little avail. Morgan knows she's charming, and she seems to believe she can augment her charm with a brandy or six.
Stanford brought a girlish mischief to the part. At times, in fact, there was something oddly reminiscent of Shirley Temple in the performance—and I mean that in a good way. Stanford seemed to be manipulating her own singing voice to approximate Morgan's. She didn't have the steady tremulous hum that you hear in recordings of the star. Her voice seemed similarly pitched, but it came off a bit breathier. Sometimes I worried that she wouldn't land squarely on a note, but then she would hit it true—sealing the deal with a sweet bit of trill. In short, Stanford sounded like someone who's knocked back a few. In fact, one of the sharpest aspects of her performance was the ability to play progressively drunker without resorting to caricature. She also convincingly depicted the physical pangs caused by the liver disease that would eventually kill Morgan.
The songs in the show were gloriously delivered. Stanford skillfully bent her voice not just to the contours of a melody but also to the circumstances of a particular dramatic moment. Of course she performed Morgan's signature torch songs by Jerome Kern and Oscar Hammerstein II: "Can't Help Lovin' Dat Man" and "Why Was I Born?" But there were also lesser-known selections, including "Just Like a Butterfly" (Mort Dixon, Harry Woods) and "I Was Taken by Storm" (Edward Heyman, Louis Alter). Lighter musical moments provided variety, including a funny, frolicsome performance of the uncredited "You Remind Me of a Naughty Springtime Cuckoo," sung as Morgan recalls her days in the back row of the chorus when she worked for Florenz Ziegfeld. There was also a torchy version of "Three Blind Mice."
Stanford's script provides biographical background on Morgan in an unobtrusive way—thanks to the character's inherent chattiness. I was a little bothered at first by the inclusion of some one-sided phone conversations scattered throughout the action. They seemed at odds with the premise that the audience is experiencing a Helen Morgan act in real time. But once the convention was firmly and unapologetically established, the audience seemed able to readily accept it. Those unguarded moments when she's on the phone help shape the dramatic arc of the script, which leaves Morgan—at play's end—back at square one when she'd thought she'd be going around the block one last time and emerging in a happier place.
It would be easy to make Morgan a pathetic figure—but Stanford knows better. "Strangely enough, even I'm hopeful," the character says in the last few moments of the show, before returning to the sunny song that opened the performance, "Nothing But" (Henry Busse, Ferde Grofé, Sam Ward). Morgan's insistence that skies will remain cloudless seemed somehow not delusional but, rather, pragmatic and a little brave. Stanford's ability to make Morgan seem stoic and not pitiful is no small skill, and it's perhaps the key component to the success of "More Than You Know."
"More Than You Know"
54 Below  –  March 20
Category: Reviews