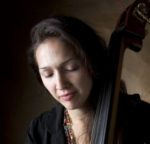 Katie Thiroux does the work of two people on stage, which is a remarkable feat of coordination that stems from a single soulful and clever musical sensibility. There are some wonderful singing bass players in jazz these days; Esperanza Spalding, Nicki Parrott, and Kate Davis come to mind. Thiroux takes her rightful place among these musicians, who, like her, are also composers and arrangers who treat vocals as an integrated part of the musical landscape.
In an August 30th set at Birdland Theater, Thiroux's trio (Steven Feifke on piano, Matt Witek on drums) was joined by special guest Ken Peplowski on clarinet and tenor sax. Thiroux's arrangements sounded simultaneously relaxed and rehearsed, with open space for everyone to work, and then out of nowhere, they would land together effortlessly. "It Could Happen to You" (Jimmy Van Heusen, Johnny Burke) opened with a great bass solo and then added vocals, showing masterful rhythmic play between Thiroux's two instruments. Her singing was deceptively simple, with down-the-middle-of-the-note pitch and minimal vibrato; the melody referred back to Chet Baker's version of the song, and her scatting was musically adventurous and playful. Peplowski was featured on clarinet with a patient and poignant "What the World Needs Now Is Love" (Burt Bacharach, Hal David) which could instantly wipe from your memory any residue of '70s elevator music. It was paired with "When the World Was Green" (Henry Stinson), in which clarinet and bass had some virtuosic conversations and Thiroux was on vocals; the two songs together managed to be heartfelt but unsentimental, while asking for love in the world and remembering innocence.
"Tricotism" (Oscar Pettiford) was the only bebop standard in the set, and a classic for bassists. It's usually done as Thiroux & Co. did it: opening and closing with everyone in impressive note-for-note unison on the melody. Rogers and Hart's "There's a Small Hotel" put Thiroux's voice up front with romantic storytelling and an easy swing. Also featured were Feifke's piano solo with its playful side-trip to boogie and Thiroux's accomplished scat solo. Throughout the evening, Witek on drums was a team player with a wild streak, whether he was supporting or featured, busting out with detailed brushwork or using his hands on the drum kit. Peplowski brought seasoned musical skill and an engaging personality; in many ways he was an anchor for the rest of the group. Thiroux sent them all packing during "Willow Weep for Me" (Ann Ronell), with just her on stage in a spare, satisfyingly lonely arrangement. Both voice and bass were articulate and clean, but each took occasional moments to slide, giving the whole song the delicate quality of melting.
Thiroux's vocal presence was less assertive than that of many singers who don't also play an instrument on stage; it worked beautifully. In some singers, a quieter vocal sound can indicate timidity, but in her case it came across as a facet of her approach to listening to the music. Her accomplished but understated sound was placed in the middle of the mix because that's where she hears it, and it's a welcome change from the strain of a singer pushing to stay in front of the band. Scatting is a privilege, not a right, even for jazz singers, and if you can somehow make it as interesting as an instrumental solo and leave your ego at the door, you've earned it. She has.
As a bass player, Thiroux was dynamite. She is in Ray Brown's lineage, having studied with his student John Clayton, and her playing shared with Brown's a full, round tone throughout the range and an underlying funk influence. She also brought a quality of singing to her playing, complete with breath-length phrases and a strong reference to melody even in off-the-grid solos.
Los Angeles-based Thiroux is only thirty, and her album Off Beat won Downbeat Magazine's "Best Album of 2017." I can't wait to see the development of her career given her current level of accomplishment and the joy she brings to the stage.
Birdland Theater – August 29 – Sept 1
Category: Reviews