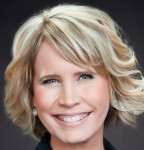 Newly minted American citizen Karen Jacobsen (born and raised in Australia) celebrated by bringing her pared-down but classy act to Stage 72 recently. Effortlessly charming, Jacobsen is an accomplished singer, pianist, and songwriter, and on this particular night it was just she, playing and singing and sharing colorful stories.
One such story was how, as a seven-year-old, she saw fellow Aussie Olivia Newton-John on television and decided she wanted to grow up to be just like her. Today, Jacobsen displays strong songwriting and piano-playing skills in her arsenal, talents that Newton-John often keeps under wraps, and vocally, in her softer moments she bears a resemblance to that Scottish songbird of the '80s, Sheena Easton. However, with the sheer strength of her voice when she lets it fly, as she often does, Jacobsen could overpower either of those more famous singers.
Jacobsen took a bit of a risk by opening with an eleven o'clock number, "Here in My Heart," about a breakup. However, her open-hearted delivery pulled the audience in. Most of the set, in fact, showcased her own songs. Because Jacobsen writes mainly for herself, and she's such an accomplished vocalist, she really knows how to compose gorgeous, sweeping melodies that show off her voice to full effect. Best of her own songs was the defiant "Melting Moments," a song about keeping the faith no matter what obstacles get in the way. The ballad "I Miss New York" is a small jewel about our magical city.
Her bluesy cover of "Stayin' Alive" (Barry, Maurice, and Robin Gibb), preceded by a story of how she almost became the opening act for Barry Gibb's American tour, was a catchy diversion, and her pairing of "America the Beautiful" (Katharine Lee Bates, Samuel A. Ward) and "God Bless America" (Irving Berlin) to commemorate her new citizenship, was quite touching, as was her recollection of what happened the day she got it. This was one-upped by an encore of a song that was apparently a big hit in Australia, "You're the Voice" (Andy Qunta, Keith Reid, Maggie Ryder, Chris Thompson). The lyrics seemed especially apt given recent terrorist attacks in France, as well as the protests about police shootings here in the United States.
Oddly (as Jacobsen, herself, said), although she's pursued music her entire life and has lived in New York for fifteen years, she's found her biggest claim to fame as "The GPS Girl" (Australian version), having auditioned and recorded hours and hours of material back before the GPS had even been marketed. Two years later, a friend called her, saying that she and her husband had heard Karen's voice on their new GPS. Jacobsen's voice has since been heard on hundreds of millions of GPS and smartphone devices around the world. This was yet another fascinating tale in Jacobsen's life.
Jacobsen is, indeed, a very engaging storyteller, and every song was preceded by a story from her life. If I had a suggestion, I might challenge her to try some patter that is not autobiographical. Or perhaps to trust her songs a bit more, and find some spots where no patter is needed so she can just pull us into her musical spell.
Although many of the songs presented were about life's disappointments, Jacobsen found balance in the act through her warm, ingratiating stage presence and easy way of conversing with her audience. She's like the best day of April: just as winter has threatened to wear you down, the sun bursts through and life blossoms with hope once again. Karen Jacobsen embodies the beautiful ache and promise of springtime.
Stage 72  –  January 13
Category: Reviews