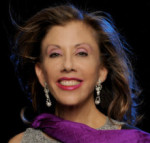 It must be ever harder for cabaret performers to come up with a fresh theme for a show. Once the tributes to single (and singular) artists and composers have seemingly been exhausted, where does one go? Perhaps too often it's to the autobiographical look back at the performer's own life and the songs that either influenced him or her, or expressed the way they felt about it then, or feel about it now. In the recent reprise of her show "Dancing Through Life" at the Laurie Beechman Theatre, Judi Mark, with big assists from musical director Hubert "Tex" Arnold and director Jeff Harnar, managed to move both tribute and memoir themes into new territory. As a dancer herself, rather than a singer, it seemed natural that she focused on stage and screen dancers she admired, and the songs they sang in stage and movie musicals. For the audience, it was truly something different.
Mark began with a welcome and welcoming medley of the two songs entitled "Shall We Dance?"—the first by George and Ira Gershwin from the 1937 movie of the same name; and the second, more familiar, by Rodgers and Hammerstein, from The King and I. "I see life as a dance," she explained. "We're all dancing, and I invite you to dance with me." Mark's tributees included Ginger Rogers, Ruby Keeler, Ann Miller, Gwen Verdon, Shirley MacLaine and Chita Rivera. Three familiar Cy Coleman/Dorothy Fields songs from Sweet Charity scattered through the show served to honor both Verdon and MacLaine: "Big Spender," "Where Am I Going?" and "If My Friends Could See Me Now." Songs such as "Forty-Second Street" (Harry Warren, Al Dubin) in tribute to Keeler gave Mark a chance to tap, while other numbers induced her to move gracefully around the small stage, and even to demonstrate her ballet moves. (She has also been a longtime teacher of dance.) As a singer, in general Mark fared better with upbeat numbers. Her "Chiquita Banana" (Garth Montgomery, Leonard Mackenzie, William Wirges) evoking Carmen Miranda, replete with towering fruit basket hat, was an all-out hoot.
While many of Mark's selections, such as "Cheek to Cheek" (Irving Berlin from Top Hat) as a nod to Rogers, were nicely on the nose, a few seemed gratuitous. A pairing of "Single Ladies (Put a Ring on It)" (Beyoncé Knowles, Christopher Stewart, Terius Nash, Thaddis Harrell) and "Material Girl" (Peter Brown, Robert Rans) seemed more of an attempt to be at least Madonna-current. Neither song is best regarded for its dance moves. And at times it seemed as if the tone of Mark's show was more about serving her own life story than it was about serving the music and lyrics of the composers and the dancing ladies who went before her. Tellingly, the big white screen at the back of the stage, which promised film and TV clips of the women being celebrated, were, instead, given over to still photos—a few in color of the honorees, but many more black-and-white pictures from Mark's family photo album or her "wall" of pictures of herself with celebrities. The balance was off.
"Dancing Through Life"
Laurie Beechman Theatre  –  October 26, November 18
Category: Reviews