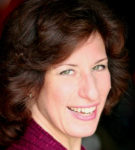 Josephine Sanges has a voice so good it's almost criminal. In her latest show, Come Rain or Come Shine – Josephine Sanges Sings Harold Arlen, which recently gave an encore performance at the Laurie Beechman Theatre, that voice was ravishing on Arlen's classic melodies. Her technical ability and artistry went a long way to gloss over the problematic moments that cropped up during the evening. The problems were confined to interpretation and staging; musically, her performance was flawless.
"Blues in the Night" (lyrics by Johnny Mercer) was an odd choice for an opener, especially when performed while wandering through the tables on her way to the stage, stopping and smiling with various audience members. She chose to make the song a celebratory moment rather than a mournful wail, but even that choice was undercut by the staging. Once on stage, she presented the first of five (count 'em, five) medleys. The temptation, of course, is to fit in as many songs as possible in a tribute, but too often this tack ends up diminishing the power of the individual songs. Three more Mercer lyrics were highlighted: "Out of This World," "Come Rain or Come Shine," and "That Old Black Magic." While the three are obviously thematically connected, I wanted more of a narrative connection. If one were to think chronologically, "Come Rain" and "Magic" should at least have been switched. Here, and elsewhere in the show, when Sanges sang the word "you," she stretched her arms out to the audience; not only is this a cliché, it's also antithetical to the romantic intent of the lyrics.
"Satan's Little Lamb" (Mercer, E.Y. Harburg) was fun, though swing is not quite in the singer's wheelhouse, and this marked the first of a few valiant attempts at scat that were awkward and seemed learned rather than felt. She successfully mined the humor of Harburg's lyrics to "Napoleon," and her passionate take on "The Man That Got Away" (Ira Gershwin) was a highpoint. It would have been even more successful had it not been bookended by quotes from "It's Only a Paper Moon" (Harburg, Billy Rose). Each song suffered from the pairing. Her "Over the Rainbow" (Harburg), while lovely, lacked the specificity and spontaneity to make it truly memorable. Three Ted Koehler lyrics—"Ill Wind," "Stormy Weather," and "When the Sun Comes Out"—were combined and sung in such broad emotional swathes and lack of individuality that the songs morphed into one overlong song, begun and ended with the same intensity. Any one of these sung with full emotional commitment and storytelling would have been more effective.
Music director/pianist John M. Cook supplied inventive arrangements that at times become overly busy, as in "I've Got the World on a String" (Koehler) sung against a piano accompaniment of Gershwin music—this adventurous experiment should should have been left in the rehearsal room. He also provided quite effective vocals on a number of songs, finding particular success (and fun) on Harburg's "Moanin' in the Mornin'" and "Down with Love." Tom Hubbard on bass and Steve Smyth on trumpet offered stellar support; I was particularly taken with the moments when Smyth's horn intertwined and echoed with the singer's clarion vocals. Director Jeff Harnar could have limited the physical staging, which frequently proved distracting. In the "Ill Wind" medley, Sanges walked around so much that at times I was actually concerned that she might trip on wires or walk into music stands. The continual hand gestures indicated to me that there was a lack of internal focus on the lyric.
I will end by returning to that remarkable voice. No matter my reservations, the pleasures of simply listening to Josephine Sanges sing make Come Rain or Come Shine well worth a visit.
Come Rain or Come Shine – Josephine Sanges Sings Harold Arlen
Laurie Beechman Theatre – August 29
Category: Reviews