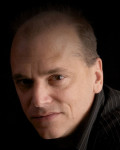 Boston's John Minnock has recently been heading down to New York about once a month to build a following in these parts. As evidenced by the nearly sold-out crowd that greeted him on the night I saw him, he's apparently succeeding at his goal.
Slowly approaching the stage wearing a basic black jacket over a navy shirt and black slacks, Minnock looked hardly nervous or even excited to be where he was. He gave the impression of being your accountant or attorney who is about to deliver unwelcome news. Ah, but looks can be deceiving. As soon as he opened his mouth…wow, where did that come from?
Like the best Irish coffee, Minnock's voice is smooth and bold, with a good dose of Bushmills to give it a smoldering kick. His great first-song choice was "Let the Good Times Roll" (Sam Theard, Fleecie Moore). His relaxed demeanor suggested "no problem"—and, indeed, he hit the notes fully, while offering creative phrasing and impressive scatting. The follow-up, "You Don't Know Me" (Cindy Walker, Eddy Arnold), was, at least by its title, an apt choice: who was this unassuming guy with the stellar chops? However, for this classic ballad, he oversang—too much vocal pyrotechnics for the message of one who is "afraid and shy." Perhaps, when singing out of earshot of the person he idolizes, he means to show his lion's roar.
Minnock's patter seemed largely unrehearsed, and there was no theme to his show, which covered mostly familiar terrain in the American Songbook, enhanced by the surprising arrangements of his musical director, Bill Duffy. His speaking voice rarely rose above mid-level, but he displayed a smart, sarcastic wit: "That's a friend of mine who is a doctor," he said, reacting to a comment from the audience. "She travels everywhere with me—by court order," he finished, lifting his cocktail.
One of Minnock's best numbers was a very credible version of "Never Make Your Move Too Soon" (Will Jennings, Nesbert Hooper), a blues number popularized by B.B. King. It was co-written by the same songwriter (Jennings) who wrote the theme for Titanic—a fascinating tidbit (the songs couldn't be more different) that led to some joshing between Minnock and Duffy. Although usually billed as a jazz singer (and he's a good one), the blues really seems to be his ace in the hole.
His love for New York was demonstrated with the well-known "On Broadway" (Barry Mann, Cynthia Weil, Leiber & Stoller) and the very recent "Manhattan" (Sara Bareilles). The first was one of the best versions of the classic I've ever heard, and Minnock and his crackerjack trio created a party atmosphere with it. In fact, Minnock stepped away and let the musicians fly: Duffy on piano, Pablo Eluchans on drums and Carlos Mena on bass (the latter two looked like teenagers) really turned up the heat. I predict that the immensely talented Mena will become a much sought-after player on the scene. As for the Bareilles song, I've been waiting for someone to cover it, and Minnock did not disappoint. Starting with just piano accompaniment, he put away his bag of vocal tricks and simply sang the words, and the inevitability of the breakup could be felt.
As an added treat, Boston's Lynda D'Amour joined Minnock on stage for a spirited duet on "Moondance" (Van Morrison). The dynamic D'Amour brings fireworks to whatever she does, and she made the most of this moment, showing impressive jazz chops as the two traded lines and scat solos.
Minnock is an impressive vocalist, obviously well trained and practiced in his chosen fields of study. My suggestion would be for him to take himself a little more seriously and play up his considerable talents—his relaxed demeanor perhaps masks a vulnerability that, if shown more liberally, could move him farther in his career. His seemingly effortless musicianship is a pleasure to hear, but I want to see the sweat, the investment. And that includes choosing a suit that has a little more splash, that says, "Yes, I'm a star, and this is what a star looks like." On the whole, Minnock and company offered a very entertaining evening, with the promise of even better things to come.
Metropolitan Room  –  March 29
Category: Reviews