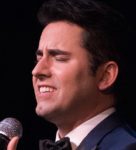 Entering wearing sunglasses—commanding in the way you can be only when you're about to sing a James Bond theme song—John Lloyd Young began his set at the Café Carlyle on opening night with 1967's "You Only Live Twice" (John Barry, Leslie Bricusse). Violinist Gokce Erem was featured right away with the catchy string theme, establishing the sound of the small band as a to-go version of the big studio orchestras of 1950s-70s pop.
Young is known for his Tony Award-winning portrayal of Frankie Valli in Jersey Boys on Broadway, and for making the almost unprecedented leap to the screen in the same role in Clint Eastwood's film version. There aren't that many men who can even sing "Sherry" (Bob Gaudio), much less make you want to hear it. This claim to fame leads us to expect that we'll get some classic mid-century rock with some very high notes; we do get a couple of those, but he's doing a great job of growing within and beyond that original brand and letting the music do the talking. Seasoned arranger and producer Tommy Faragher, who has a Grammy nomination for the Staying Alive soundtrack, is on piano, keyboards, and backup vocals and is clearly a key collaborator here. Faragher co-wrote two 1970s-inspired originals in the set, "Slow Dawn Calling," with John Lloyd Young's breakup lyrics, and "Almost There" (Faragher, Adam Zelkind).
The arrangement of Hoagy Carmichael's "Stardust" as a '50s rock ballad with flourish is a tongue-in-cheek interpretation that shows off the clean rhythm in Young's singing. "Ooo Baby Baby" (Pete Moore, Smokey Robinson) is a nice soul crossover and a chance for Young to give Smokey a run for his money in the upper range. It's almost impossible to give Stevie Wonder a run for his money, and although "Don't You Worry 'Bout a Thing" didn't quite land, it's new and it probably was there on its next night out. It was apparently added to showcase the wonderful Bashiri Johnson on percussion— but that kind of virtuosic pop is exactly what you'd want to hear Young singing. His style also works very well in Spanish: "Usted" (Gabriel Ruiz) is passionate and nuanced, and it gave him a moment to have a chat with some Guatemalan audience members after the song.
Above all, Young is a gracious host, welcoming many guests by name, serenading two anniversaries with "Can't Take My Eyes Off You" (Bob Crewe, Bob Gaudio), telling a funny story about being part of the National Endowment for the Arts delegation to Cuba, and throwing in a few self-depreciating comments that add shading to what is generally such a confident presentation. He wears his considerable abilities lightly and personably. He initiated a break mid-set when he said he was thirsty and was going to the bar, while the band played a featured number; this opened up the room in an interesting way as he quietly said hello to a couple of people and then directed his attention and respect to the stage.
The little-known Roy Orbison song "Say No More" (Boudleaux Bryant) is a showstopper. Young manages to evoke a song's original artist without ever being a tribute act, in this case, working the full rock-crooner vibrato and emotional intensity of Orbison while making it his own. "The Impossible Dream (The Quest)" (Mitch Leigh, Joe Darion) is a satisfyingly anthemic song for him, and he makes the tasteful choice of not giving us a money note at the end—all the more grounding and effective because he could have done it effortlessly.
When listening to a tenor with a really high range, one often becomes aware of how close they get to their limit—the almost-strain of that sound, the falsetto placement, sometimes in rock also a rasp—all cuing that they are now higher than they have any right to be and we're at an exciting extreme. John Lloyd Young has such a skilled voice that those insane upper registers never sound extreme—as a result, he can't show-off in the traditional sense because on him it simply sounds natural. Now after all his hard work and accomplishments, he has the interesting task of just being a singer. The way he connects with his audience and band shows that he's happy with that job title.
Heart to Heart
Café Carlyle – February 13-24
Category: Reviews