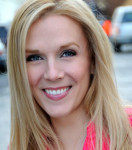 Doing a tribute show to a beloved performer who is not only very much alive, but still working, can be tricky. Who needs the tribute maker, no matter how talented or sincere, when the real thing is metaphorically so close at hand? Jennylind Parris has neatly sidestepped this issue by concentrating on the music associated with Carol Burnett, while Burnett herself now tours the country in a solo show with lots of clips focusing on her six decades in comedy. Like her 80-year-old idol, Parris exudes warmth and humor, and sings well in a variety of styles, without attempting to sound like Burnett. In her narration, Parris doesn't attempt to replicate Burnett's San Antonio-meets-Southern California accent, or attempt any accent at all, most of the time. (She does do a creditable cracker accent for Eunice from "Mama's Family" in a short sketch from that show.) And, while much of Burnett's musical body of work was comical, or at least upbeat, she was capable of singing softer ballads, and so is Parris.
The title of this show, "A Woman of Character: A Tribute to the Incomparable Carol Burnett," is a somewhat awkward pun—one that cries out for the addition of an "s." Parris wants to pay tribute to Burnett's personal character, particularly her propensity to help young, struggling performers, just as the star, herself, was helped in the beginning of her career, but also to honor the characters that Burnett played over the years on her long-running TV show, in movies, and on the stage. Because of this dual appellation, Parris feels compelled to justify her title by giving us frequent reminders of Burnett's good deeds. But the set's opening number, "There's No Business Like Show Business" (Irving Berlin, from Annie Get Your Gun), which is not automatically associated with Carol Burnett, sets the real tone of the show.
This set continues, logically enough, with two songs from Burnett's first Broadway shows: the perhaps inevitable "Shy" from Once Upon a Mattress (Mary Rogers, Marshall Barer) and "The Usher from the Mezzanine" from Fade Out, Fade In (Jule Styne, Comden & Green). The two shows and their composing teams are combined later on in an effective medley of "You Mustn't Be Discouraged: (Fade Out) and "Happily Ever After" (Mattress). The expected Burnett signature songs come along in due course: "I Made a Fool of Myself Over John Foster Dulles" (Ken Welch), "Meantime" (Robert Allen, Al Stillman), and the only possible encore, "I'm So Glad We Had This Time Together" (Joe Hamilton). The overdone "I'm Still Here" (Stephen Sondheim, from Follies) works for Carol, because she sang it in the Lincoln Center concert version of the show, but Parris is a bit young to really pull it off.
Then there were the songs that others have sung more memorably, such as "Feelings" (Morris Albert). I'd rather have heard an approximation of Burnett's wistful rendition (on a recording) of "Enter Laughing" (Quincy Jones, Mack David), the title song from the movie version of Joseph Stein's play of the same name, based on Carl Reiner's memoir. This largely forgotten song would be most appropriate to honor a comic whose life wasn't always a barrel of laughs.
Carol sang many duets on her television shows, with a storied list of guest stars, including Rita Hayworth, Jimmy Stewart, and Gloria Swanson. Parris rightly pays tribute to this aspect of Burnett's musical side, but her attempt to deliver a duet on her own seems awkward: "Old Friends" (Sondheim, from Merrily We Roll Along), which was a memorable duet with Julie Andrews on the third Julie and Carol TV special, "Together Again," needs another half. In such situations, usually the pianist or some other accompanist fills in for the second part, but musical director Tracy Stark does not do that here.
Stark does a great job of accompanying Parris on the piano. And director Gretchen Reinhagen keeps the show moving well. My only real quibble is with the narration, which at times seems backed into, and sometimes wrong in sequence. For example, it's only late in the show that we learn that Parris's own first exposure to Burnett was the 1980 movie version of Annie, in which she played Miss Hannigan, the evil and drunken orphanage matron. This revelation comes only after Parris has sung Hannigan's signature song, "Little Girls" (Charles Strouse, Martin Charnin). Why not before, and much earlier in the program? And even those of us who are long-lived, hardcore Carol Burnett fans can be forgiven for not remembering that she did a TV version of Calamity Jane. Again, this information should have preceded Parris's lovely rendition of "Secret Love" (Sammy Fain, Paul Francis Webster) instead of coming as an afterthought.
"A Woman of Character: A Tribute to the Incomparable Carol Burnett"
Metropolitan Room: November 2, December 6, 21; Don't Tell Mama: February 12
Category: Reviews