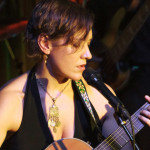 Singer-songwriter Jen Chapin, who straddles the line between folk and pop (with rock and jazz influences), is, like the best artwork or wine or chocolate, perhaps not best appreciated by the masses that indulge in the let's-try-to-please-everybody stylings (if they can be called such) of current hitmakers like Katy Perry, Miley Cyrus, or Rihanna. It's not that Chapin doesn't have a few songs that are worthy of large-audience airplay (she does), but the cumulative effect of taking in her songs, one after another, is to be struck by a singular talent who has a bold vision, and she doesn't sugarcoat it or water it down.
This, too, is evident in the way she presents herself. Chapin does not coddle her audience, resorting to a pandering for applause. In her recent concert at The Cutting Room, she launched into a few songs from her latest CD, "Reckoning," before saying anything to the audience. When she did speak, she considered her words, and often delivered intelligent, witty observations about herself and about life in general. Before long, she had the audience coming to her, not the other way around. There is a Zen-like strength about her, rooted in confidence, that may seem distant and off-putting at first, but is ultimately deeply satisfying. Chapin isn't a roll in the hay, she's a commitment.
Among Chapin's many virtues, her greatest is her way with a lyric. Although she is the daughter of Harry Chapin, perhaps the best of the storyteller singer-songwriters of the '70s, and she has inherited his gifts, she has very much carved out her own path. Her poetry is political in the best way: she drives her points home through individual stories, not hitting us over the head with angry protestations. She trusts her audience to think, not always react with a gut-level emotion—and therein lies her emotional impact.
Consider the opening lines of "It's All Right": "A roach got caught in the kitchen/Old transmission died/Tax man well he's taking us, takin' us for a ride…"  Or this verse from the even more powerful "Feed Your Baby," about a Caribbean woman who gave up working the land for the cold, hard cash of the northern cities: "Strong hands picking up the office trash/You never dig dirt with a new green card/But her fingers still ache for the yard/Now that feeding her baby is so hard." The latter is rendered even more effective with the juxtaposition of a singsongy melody that is not unlike a nursery rhyme. These lyrics have specificity and color—they show, rather than tell.
Lest you think that such material would make for a difficult listening experience, these songs about poverty, immature men ("Manchild"), fear of not being heard ("Reckoning"), apathy ("Passive People"), and justice ("Gospel") often have catchy refrains and pleasing percussive rhythms. "Gospel" was her closing song—preceded by an apt, timely quote from Martin Luther King, Jr.—and it got the audience singing and clapping along with its hopeful message.
We had an added treat when she sat down to deliver "Indispensable" accompanied only by Chris Brown on piano. Written several years ago, the song is about the struggle to remain independent, and her raw, raspy vocal delivery was plaintive and heartbreaking. (Though taken in its entirety, the song appears to refer to committing to a new love, some of the words seem as if they could be, touchingly, about her father.)
One welcome surprise was Chapin's expressive hands and eyes (not always the hallmark of an inward-looking folk singer). Every gesture was rich with meaning, a nice accent to her dependable, middle-range voice.
Chapin's band was top-notch: Stephan Crump on bass, Dan Rieser on drums, Chris Brown on keyboards, Erin Hill on harp and backup vocals, and Jamie Fox on electric guitar. The stoic-looking Fox, in particular, had some shining moments with his fingers on those strings. Chapin donned her own guitar for several of the songs, but unlike many singer/musicians, she seemed equally at ease singing with or without it.
I might suggest, just for kicks, that Chapin include a cover song so that audiences can enjoy her take on a classic. (In the past, she has recorded an album of Stevie Wonder songs and even her father's "Cat's in the Cradle.") Also, new listeners often appreciate being thrown a familiar bone among the latest offerings.
My hope is that the world will soon be hearing more of Jen Chapin's music. Her unique point of view is refreshing and her commitment to her message and craft is quite remarkable.
The Cutting Room  –  January 17
Category: Reviews