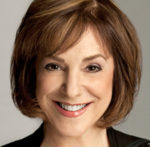 When this show was previously done at Feinstein's/54 Below, it was called "I'm Still Here!" but for this second outing at the club, it was newly named "Jana Robbins Returns!" Both titles turn out to be apt enough. After all, by her own upfront admission, she's been a New York-based singer and actress for some five decades. Looking impossibly youthful, given that statistic, with her forceful vocal style intact and a palpable enthusiasm for being onstage that proved to be highly contagious among this audience, Robbins has earned the right to celebrate her longevity in her chosen profession. But also, since in recent years she has performed live less and worked behind the scenes as a producer more, this show does constitute a return—and not a comeback, as Norma Desmond would insist. Further, unlike most of her cabaret juniors, who feel compelled to come up with a solid concept for their sets, Robbins has gained the right to eschew a direct through-line for hers, and to cover a bunch of bases in the order she chooses, and scatter just enough autobiographical chat throughout, to hold it all together.
She began the show with a strong belt in the very Vegas-y "I Gotta Be Me" (Walter Marks, from Golden Rainbow), seemingly summing up her lifelong philosophy. This was followed by a heartfelt "The Impossible Dream" from Man of La Mancha (Joe Darion, Mitch Leigh), the first Broadway show Robbins saw when she arrived in New York from Johnstown PA, and just out of college. Coincidentally, the role of Dulcinea in a national touring company of the show became her first job in a Broadway show, just a year later. Then came an inventive five-number medley of dream songs: "Dream (When You're Feeling Blue)" (Johnny Mercer), "All I Have to Do Is Dream" (Boudleaux Bryant), "Dream Lover" (Bobby Darin), "I Had a Dream" (John Sebastian), and "Dream a Little Dream of Me" (Wilbur Schwandt, Fabian André, Gus Kahn). This was followed by—and why not?—a few of my favorite standards," including "Time After Time" (Jule Styne, Sammy Cahn), "The Shadow of Your Smile" (Johnny Mandel, Paul Francis Webster), and "The More I See You" (Harry Warren, Mack Gordon).
The 1989 Tyne Daly revival of Gypsy (Styne, Stephen Sondheim) arrived right in the middle of the Jana Robbins Broadway career, and she spent three years touring in that show, primarily as Mazeppa, the "bump it with a trumpet" stripper, but also as a standby for Daly, playing the part of Mama Rose forty times. Thus, it was highly appropriate and welcome that Robbins devoted a large section of her show to that musical. First, she delightfully performed her successful choice of an audition song for the Gypsy job: "Zip" (Rodgers & Hart, from Pal Joey). She then did a medley of three songs from Gypsy: "Small World," "You'll Never Get Away from Me," and "Together, Wherever We Go," followed by a satisfying, full-guns-blazing "Everything's Coming up Roses," and a game prance around the stage, complete with bleating bugle, with "You Gotta Get a Gimmick." "It was a little easier 27 years ago," she noted.
The show that got away from her was Sunset Boulevard, from which she sang "As If We Never Said Goodbye" (Andrew Lloyd Webber, Don Black, Christopher Hampton). She also performed a haunting "Here Alone" from Little Women, a show she produced but did not appear in, with music by Jason Howland, and lyrics by Mindi Dickstein. Of course, she sang a rousing "I'm Still Here" (Sondheim), mercifully with no annoying updating of the lyrics. Her closer, "My Mother Was a Singer" (Eileen Valentino, Lanny Meyers), provided a subtle tribute to her own mother, who, like Jana, had studied dance as a child at the Gene Kelly School in Johnstown, but, unlike Jana hadn't pursued a performing career. The Robbins encore circled back around to the dream theme with "It Started with a Dream" (Cy Coleman, David Zippel). There was even more, but the only thing I missed was something, almost anything, from I Love My Wife, another of her Broadway bookings. Never mind. This show, whatever its title, more than filled the stage and filled the room, remarkably with only a piano for instrumental backing. Even more remarkable, Jon Weber, at the 11th hour, ably substituted on piano and some background vocals for the suddenly ailing musical director Joe Goodrich, who co-created this show with Robbins.
Jana Robbins Returns!
Feinstein's/54 Below – February 1
Category: Reviews