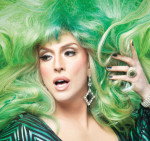 Drag performer Hedda Lettuce has become somewhat of a legend around town, having hosted screenings of camp classics at Bow Tie Chelsea Cinemas on Thursdays (and sometimes Saturdays and holidays) for many years. The multi-talented entertainer has also hosted her Christmas special (formerly "Lettuce Rejoice," this year billed simply as her Christmas Special) for many years—now an annual holiday staple at the Metropolitan Room, where she occasionally does extended runs during other seasons as well.
The evergreen Lettuce pulls out all the stops. She not only has the glam of an old time movie star, but she is an unparalleled monologist, stand-up comic, song parody writer, and singer. She writes all her own material. Although people probably don't go to a Hedda Lettuce show to hear her vocal pyrotechnics, having seen a few of her shows in the past, I can say that her voice has gotten fuller and more capable of navigating a pretty decent range with each passing year.
After her celebratory opening number, "Lettuce Rejoice" (to the tune of "Jingle Bells"), Hedda settles into a monologue to talk about "all the terribly lonely people out there," segueing into a bit about how they live in tiny studios and sleep on their futons from college, "where every stain has a memory." One never knows where Hedda is going to go with her tales, but it is guaranteed to leave you gasping for breath with laughter.
She enjoys chatting with the audience and, like the best improvisers, can come up with great retorts no matter what someone tells her. On the night I saw the show, a woman with a dour expression on her face was sitting near the front. Hedda commented on it and asked what she did for a living. When the woman replied that she was a minister, Hedda's eyes grew wide but she hardly skipped a beat. "A minister? I've hit the jackpot!" she announced, and then said, "I promise I won't say fuck more than three times in a sentence."
Hedda's musical specialty is parody, and one can almost guess what the following carols might be about: "Here Comes Tranny Claus," "Hedda the Big-Boned Drag Queen," and "Menopause is Comin' to Town."
Hedda is always current, and she finds a way to bring in the latest news: a song about Bill Cosby set to "Little Drummer Boy" ("…as he slipped a roofie in my rum rum rum rum"), and "Grandma Caught a Bad Case of Ebola." An equal opportunity offender, Hedda makes sure to include a Hanukah song, which is preceded by a hilarious monologue about Jewish history.
She makes good use of the quiet but accommodating Paul Leschen on piano. "Give me some introspective music, Paul," she says, and he underscores a reflective monologue. Or later, "Paul, give me some sad music," and then a sorrowful score accompanies Hedda's tale of growing up in Pigeon Tit, Tennessee.
The entire act is deeply satirical and it's fun to catch a glimpse of Hedda, herself, occasionally trying to hold back a smile. Like the late Joan Rivers, there is some cursing and crudeness, but it is balanced with a tremendous love of her audience and a love for what she is doing.
There is nothing better than laughter this time of year, especially when we can good-naturedly laugh at our own foibles. Indeed, let us rejoice: Hedda Lettuce is in Chelsea for several nights this Christmas.
"Christmas Special"
Metropolitan Room – December 13, 14, 19, 20, 21, 24
Category: Reviews