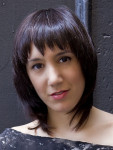 Gabrielle Stravelli returned to the New York cabaret stage this month, her first multi-night solo New York cabaret engagement since winning a Bistro award in 2008. In the intervening years, she has toured extensively, headlined a jazz brunch in Soho for three years, and recorded the well-received CD "Waiting in Vain." If her opening night at the Metropolitan Room is any indication, Ms. Stravelli can count on being a headliner, here and abroad, for many years to come.
Stravelli expertly combines tremendous musicianship, poise, a nice variety of song choices, and a welcoming presence on stage. Never does her polish sacrifice the sheer joy she exudes while on stage; nor does her skill in music keep her from communicating directly to her audience, which is sometimes the case with jazz singers who get so entranced in the music that they become part of the band—and the audience suffers. Not so here.
She gets it right from the get-go, arriving on stage in a red-carpet-ready black leaflet gown that elicited oohs and aahs from the audience before she sang a note. Contrary to what some believe, costume is part of the overall effectiveness of a performance—if it's terribly wrong, people will talk about it long after the show, and if it's too fancy, one might suspect that it's covering up for a lack in other areas. Not so here.
The show contains a mix of songs old and new, and the best are the ones that tap into her natural exuberance. Opening with "While We're Young" (William Engvick, Alec Wilder, Morty Palitz), she is in full command of her voice and her intention, and we settle in, knowing that we're in for a terrific evening of music.
Her voice is fluid and flexible, with surprising power at times. I say surprising because she is rather diminutive in size (so was Garland and Piaf) and most of the time she uses her head voice, more in line with her jazz phrasing sensibilities. She claims her favorite Cole Porter song is "Dream Dancing," and I can see why: not only does it bring out her sensuality, but the range of the song allows her to demonstrate a chocolatey alto as well as a sugar-sweet soprano.
She elevates the comic possibilities in "Between the Devil and the Deep Blue Sea" (Harold Arlen, Ted Koehler) and "Goody Goody" (Matty Malneck, Johnny Mercer). I don't know that I've heard a better version of the latter—the phrasing is so imaginative and conversational, I felt as if her ex were in the room with her. She surprises again with her pairing of "Do Right Woman, Do Right Man" (Chips Moman, Dan Penn) and Dolly Parton's "Touch Your Woman." This musical detour suggests there is even more to Stravelli than first meets the ear, that there are more paths possible to her in years to come.
She co-wrote "Runnin' Back for More," which appears on her CD, with Pat O'Leary and Jason Robinson. It fits right in with the rest of her material, and the audience was as wowed as I was when she revealed it was an original song. The only slight misfire, for me, is John Fogerty's "Have You Ever Seen the Rain?" Although she precedes the song with a bit of patter that almost emotionally overwhelmed her, the arrangement strays so far from the original that it was a distraction, and the performance didn't pull me in.
So involved in the narrative of the songs, Stravelli feels little need to offer much patter. In the case of this show, it wasn't missed. She throws off a funny line about her being Sicilian and introduces a couple of the songs, but when the songs are so deftly communicated, who needs more? The trio accompanying Stravelli consists of her musical director Joshua Richman on piano, Pat O'Leary on bass, and Eric Halvorson on drums. They give great support, and during a couple of band solos, they entertain without grandstanding.
The show was directed by Marilyn Maye. This is an apt pairing in that Stravelli's jazz and pop sensibilities are similar to Maye's, and she, too, knows how to please a crowd and effectively put forth a song without oversharing her personal life. Brimming with joy and confidence, it is obvious that the stage is where Gabrielle Stravelli was born to be. I'm certain we'll not have to wait very long before her next prominent New York engagement.
Metropolitan Room  –  July 17,22, 29, 31
Category: Reviews