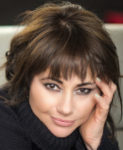 Frances Ruffelle's voice sounds like diamond dust: just so pretty and so gritty that you could listen to it sparkle roughly for hours. If Éponine had had the chance to grow up, this is who she'd be: streetwise, lovelorn, and European…singing to share the hard-won wisdom she attained through heartbreak and owning that wild edge. Although Ruffelle's claim to fame may always be having originated the Éponine role in the West End Les Misérables and going on to win the Tony for her Broadway run, her vocal texture is made for recording, and the cabaret style of chanteuse meets groovy-yet-blue 60s girl is a great fit for her.
Located in the Yotel on West 42nd Street, The Green Room 42, where Ruffelle recently did a sold-out one-nighter, is a stylish venue with lighting that provided saturated and silhouetted moments on stage. Early in the show, an evocative line or two observing the daily life of a lover sounded abstract, like poetry. As the evening progressed, we began to connect the dots of the story of the rise and fall of a Parisian romance, with its Gauloises cigarettes and recurring mention of the pet dog. The patter was effortless, spare, often bittersweet and funny, and woven through the songs artfully; it sounded like Ruffelle's own life, but it didn't have to be. The slow and evocative way the story unfolded had us invested in and caring about the relationship, even as there was clear foreshadowing that it would inevitably crash and burn.
After having played an iconic French character, it seems fitting that Ruffelle's next stop might well be Édith Piaf; she featured several Piaf songs, including 'Non, Je ne regrette rien," (Charles Dumont, Michel Vaucaire) and "La Foule" (Ángel Cabral, Michel Rivgauche). Piaf is stylistically a great fit for her despite her French accent's ranging from pas mal to zut alors. Ruffelle let her own London accent fly in a lighthearted "Piano Practicing" (Lan O'Kun), a patter song about dreaded childhood piano lessons, featuring David Barber keeping the pace with his articulate baroque piano. The band was rounded out by Tim Basom on guitar, Jake Robinson on drums, and Sam Zerna on bass. Arrangements by Gwyneth Hebert, David Barber, and Jude Obermuller were spot-on. The re-imagining of 'On My Own" (Claude-Michel Schönberg, Herbert Kretzmer), starting with an intro reminiscent of Miles Davis's "So What" and moving into a '50s rock ballad, did a great job of transitioning her Les Miz signature song into the smoky groove of the evening. The frequent appearance of the tremolo guitar, as in Sonny Bono's "Bang Bang (My Baby Shot Me Down)," and the organ samples on keyboard kept things vintage-sexy and ready for a Quentin Tarantino soundtrack.
The evening featured several entertaining duets, starting with Ruffelle "needing a man" and grabbing guest Stuart Ward from his banquette, ostensibly hoping he could sing (no problem there). They did the moody, heroin-chic "Paris Summer" (Lee Hazlewood), beautifully contrasting Ward's baritone with Ruffelle's voice, breathy and floating above him. The wonderful Sally Ann Triplett joined her for "Little Girl Blue" (Rodgers & Hart), in which she played the role of a loving and wiser friend shaking her head at the mention of Ruffelle's wine-heavy breakup process; this led into Michael John LaChiusa's "Best Friend" from The Wild Party, in which Ruffelle had performed in London earlier this year. After taking some heat from Ruffelle for drinking Shirley Temples, the sardonically funny Craig Bierko sang two duets with her, ending with "Yeh, Yeh" (Rodgers Grant, Pat Patrick, Jon Hendricks), and also threw in the cheeky note that he didn't think "On My Own" is really a good fit for her.
On occasion, Ruffelle's pitch was not quite right, but these moments felt as though they were part of a loose professional performance style that worked overall and had a sort of rebellious feel, as if the occasional flat-ish note might be where she wanted to color outside the lines. She was completely committed to her story and worked with a fearless physicality on chairs, on the piano, and around the room, throwing herself into the night with her heart on her sleeve. Her rendition of Cole Porter's "It's All Right With Me" encapsulated what a relationship rebound would look like for this person: getting back on the horse; any horse. Her look was chic and messy, like a burlesque singer on her third set; she changed from tailored coat, to black slip, to black dress; as if from day, to home, and then back out for the evening—allowing us a revealing glimpse inside the personal world of love lost.
The Green Room 42  –  October 8
Category: Reviews