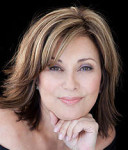 In last month's five-night engagement—at five different venues—Denise Donatelli made it clear that she is on a determined quest to expand the parameters of the jazz cabaret songbook. In "Big Noise/New York," her eleven-number set, which I saw at the Metropolitan Room, she found new gold, especially in the adult contemporary world of Sting, Beck, David Crosby, Joni Mitchell, Brenda Russell, Steely Dan, Journey, and the Yellowjackets. Donatelli is solidly grounded in traditional jazz and swings with the best of them; six of her songs came from latest CD, "Find a Heart," for which she was celebrating her third consecutive Grammy nomination for Best Vocal Jazz Album. But she was happy to experiment with tempos and lyrics. In this she was abetted by her able quartet—Laurence Hobgood, piano, Lage Lund, guitar, Ed Howard, bass, Jon Wikan, drums—plus Don Braden on alto- and soprano saxophones and flute.
Donatelli performed a couple of standards: "All or Nothing at All" (Jack Lawrence, Arthur Altman); and "My Shining Hour" (Harold Arlen, Johnny Mercer). But these were more up-tempo and swingier than as usually heard. Both up-tempo and upbeat lyrically, "Spaced Out" (Geoffrey Keezer, Susan Marder, who doubled as a backup singer for this set) opined "I am lighter than a cloud…happy just to be in love" On the other hand, Sting's "Practical Arrangement," from his concept album "The Last Ship" (but unaccountably missing from the Broadway musical adapted from it), offered a more practical tone: "Am I asking for the moon? Is it really so impossible?…I've always been a realist…I'm not suggesting that we find a paradise forever, [just] a practical solution to a solitary life." Here Braden's wistful flute provided exceptional emphasis.
On the other hand, Beck's bitterly ironic reversal of a love song, "Eyes That Say I Love You," predicts "You'll come runnin' [back to me] with eyes that say I love you… You'll be blind, I won't know you. I won't see you, I won't need you, I won't love you anymore." While Donatelli gave the song every ounce of required bile, she also managed to swing it, and when it was over, she almost cheerily observed, "someone must have done something really bad to Beck." I'm guessing that Donatelli wouldn't be at her most comfortable singing hardcore blues.
"Love and Paris Rain" (Russell Ferrante and William Kennedy of the jazz fusion quartet the Yellowjackets, lyrics by Brenda Russell) is less the prosaic stroll through the dampened Tuileries that the title suggests and more a profound view of the real deal: "Every hour I'm deeper into love…Take me now as I unfold my very soul to you." Donatelli gave the song the reading it deserved, as did, particularly, Hobgood on piano, Lund on guitar, and Braden on soprano sax.
She was at her slowest and sultriest on "In This Moment" (Billy Childs), noting "You are here within my reach…Now you're mine, 'cause we have tonight, and this moment for all time." With "Find a Heart" (David Crosby, Marcus Eaton, James Raymond) she offered, "In a voice so free of doubt," the song's solid advice to those who seek the love that leads to completion. Joni Mitchell's "Be Cool" proved an appropriate Donatelli signature song and denouement for her show, whose finale was the six-minute-plus title song, "Big Noise/New York" (Donald Fagan of Steely Dan, Marcelle Clements), which instrumentally came off as a loud "trad jazz" celebration. But its lyrics lamented: "Without your love, this town's no fun at all…I only hear the loudest voices…it's all big talk."
With five musicians on stage, the band occasionally threatened to overpower the singer, but these overly big noises never lasted for very long and Donatelli was always ready and willing to re-balance any blare.
"Big Noise/New York"
Metropolitan Room  –  February 11
Category: Reviews