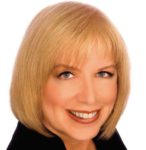 In her recent show at Pangea, Deb Berman took what could have been straight-ahead cabaret fare—American Songbook standards and personal stories—and made every moment land with authenticity and finesse. Opening with "It Don't Mean a Thing (If It Ain't Got That Swing)" (Duke Ellington, Irving Mills) and closing with "Things Are Swinging'" (Jack Marshall, Peggy Lee), Berman made an effervescent case for the idea that a singer collecting her first Social Security check doesn't have to settle for merely still being here—she can wear sparkles, work with a hot band, have Vito Lesczak bust-out the brushes on the drums, and actually swing. "Swing" can mean so many things, and it's notoriously hard to pin down: it's a reason to tap your foot, an uneven weighting of eighth notes, and a state of mind…take your pick. No matter what definition you're using, Deb Berman can swing.
Her second song, "Make Yourself at Home" (Barry Levitt, Peter Napolitano), laid out the welcome mat for the rest of the evening; as an audience member, you knew you could just relax with Berman as the hostess. Her warm sound, cool, rhythmic bounce, and focused delivery of lyrics evoked Peggy Lee, but in a way that was completely her own. Well directed by Geoff Stoner, her patter was engagingly personal in a completely professional way. Sondheim's "Another Hundred People" featured a heightened version of Berman's Queens accent and included a sweet quotation of "The Trolley Song".
During "On the Sunny Side of the Street" (Jimmy McHugh, Dorothy Fields, additional lyrics by Berman), she passed out her real-estate business cards—a bit that could easily have fallen flat in less capable hands but was laugh-out-loud funny in hers. "Life Story" (Maltby & Shire) showcased Berman's tremendous ability to act in a song; it was an unexpectedly sad moment in the show. It transitioned beautifully with a gentle, recurring joke about her weakness for bass players. This was only slightly intimidating information for bassist Tom Hubbard, who also got a moment to act. Musical Director and pianist Gregory Toroian sang with Berman in a very entertaining duet of "You're Awful" (Roger Edens, Comden & Green), and throughout the band was crisp, swing-worthy, and in the pocket.
For a slight change of pace to the standards, Berman included covers of "Make You Feel My Love" (Bob Dylan) and "You Gotta Be" (Des'ree, Ashley Ingram). Having learned that in the early 1990s Berman had done the publicity for Des'ree's album I Ain't Moving, hearing her sing the top-40 hit from the album suggested a record company publicist who had been patiently waiting for her own chance to get behind the mic and be heard. She handled the easy soul style of the song like a pro, as if the music had been getting under her skin for years.
Still Swingin'
Pangea – October 30, November 10, 28
Note: This show will be performed again on December 16 as part of the Winter Rhythms series at Urban Stages
Category: Reviews