Mason Alexander Park's The Pansy Craze at Chelsea Table + Stage was part TED talk on non-binary history, part hard rock cabaret show, and part showcase for Park's obvious talents. They played Hedwig in the first national tour of Hedwig and the Angry Inch, and regionally in I Am My Own Wife, Cabaret, and The Rocky Horror Show. On television, they have been featured in numerous series, including the upcoming The Sandman and the live action Cowboy Bebop, both on Netflix.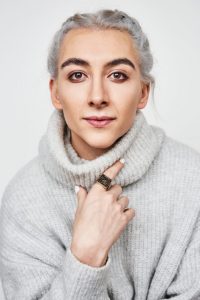 The TED talk element had the wide-eyed enthusiasm of an explorer discovering a new land. Park is young, and when he came upon the story of gay and non-binary performers in the early part of the 20th century reacting to oppression and repression by creating what was referred to as "The Pansy Craze," they assumed since they hadn't heard about it that no one else had either. This is a common reaction of young people interested in their history and culture, but Park's naiveté that this was "news" lost its charm quickly—as when they claimed to be one of the first, since its original performance, to sing "Masculine Women! Feminine Men!" (Edgar Leslie, James V. Monaco). I have personally heard at least a half dozen versions in various shows and venues over the years. 
The show opens with a non-descript, impersonal "Sweet Transvestite" (Richard O'Brien from The Rocky Horror Show) before starting the lecture, and then came "Masculine Women!…" which lost its historical interest and authenticity in Park's rock and roll setting. That rock sound permeated the evening for better and for worse. A touching "If Love Were All" (by, as they said, an original pansy, Noel Coward) degenerated into a pointlessly loud, big ending. "Origin of Love" (Stephen Trask from Hedwig) found them on much more steady footing; the song is great and so was their performance. "Midnight Radio," from the same show, was another highlight later in the evening. The Kinks' "Lola" (Ray Davies) and "Ziggy Stardust" (David Bowie) were perfect choices for the show; I would have loved to have heard the singer perform them without the overwrought, banging arrangements crushing any wit or nuance in the lyrics. On the other hand, Bowie's "Five Years" was one of the best moments of the night in their striking performance. The Replacements' "Androgynous" proved that with the right material and arrangement they are a fine singer; it also  allowed a bit of self-mockery which provided a break from serious attitude on with most of the other songs.
The direction by Hunter Bird was muddled and ill-considered. Both Park and their back up vocalist, Sav Souza, were cramped centerstage behind music stands holding binders. Most distracting was Souza's constant presence centerstage (literally right next to Park) whether they were singing or not. Both referred constantly to the loose-leaf binders filled with patter and lyrics. Surely this was a big enough gig that memorization might have been considered a necessity. Park sat on a stool for most of the show (possibly because of the logjam of musicians and furniture) and it robbed a lot of numbers of energy and excitement. Inexplicably, Souza, who has an admittedly big, if somewhat colorless voice, was given the climax of the 11 o'clock number all on their own. It might have been intended as a humble, generous gesture, but it came across as a confusing mistake. The standout musicians of the night were Drew Wutke on piano and, especially, Tucker Marshall on drums. 
Certainly, investigating the actual Pansy Craze or celebrating their descendants in more recent times would have been a valuable show, but the actual craze was reduced to just two numbers and not enough care was taken in presenting the modern material, so either premise went by the wayside in favor of more safe, recognizable, audience-friendly material. The incessant hard rock blare of most numbers seemed another concession to the taste of Park's fan base, presumably followers of Hedwig and hip, edgy TV and theatre.  This was particularly disappointing because Mason Alexander Park is obviously talented enough to attempt much more than what they gave us in The Pansy Craze. 
Let me end with a belated welcome to Chelsea Table + Stage in the Hilton Hotel on West 26th Street. It is a gorgeous, beautifully designed, comfortable room with good lights, great sound, and excellent sight lines from pretty much anywhere in the room. I look forward to returning. 
***
Presented  at Chelsea Table + Stage on October 31, 2021.
Category: News / Reviews / Commentary, Reviews