Late Bloomin' Jazz Man is the title of singer-lyricist Mark Winkler's great new album as well as the title of his recent appearance at Pangea (as part of Ben Cassara's Cool, Fall Jazz series) which celebrated both the recording and his welcome (and rare) return to New York City from his West Coast home.  Accompanied by a first-rate quartet led by pianist Allen Farnham, Dave Kingsnorth on bass, Alvester Garnett on drums, and Pete McCann, whose fiery work on guitar was a highlight of the evening, Winkler demonstrated a cool, knowing, incredibly inviting presence as he maneuvered a heady mix of originals, rarities and classics, heightened by his impeccable time and swing and his strong, personal phrasing.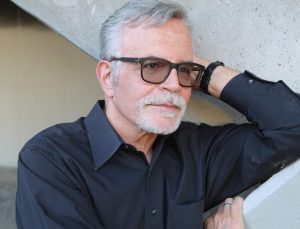 He opened with "Don't Be Blue" (John Guerin, Michael Franks) with its bouncy admonition happily welcoming the audience, but that welcome was interrupted by the presence of a music stand holding a book, presumably filled with lyrics, sheet music, et al.  That would be problem enough, but without the forethought to at least put all the lyrics to one song on one page, he looked and reached down to turn the page in the middle of the piece immediately taking me out of the moment. This distraction lessened as the show proceeded, thankfully. From his previous CD with pianist David Benoit, Winkler included "The Shadow of Your Smile" (Johnny Mandel, Paul Francis Webster); I particularly appreciated the inclusion of the verse and the wittily informative introduction involving Johnny Mercer's initial involvement with the song.  "Old Enough" (Jamieson Trotter, Winkler) a terrific track from the new album, set up a theme of sorts, subtly woven into the fabric of the show, implying the world-weary wisdom that came with age and informed his attack on these songs and stories. His lyrics, here and elsewhere, were smart and personal and fine. "I Always Had a Thing for You" (Eddie Arkin, Shelly Berg, Lorraine Feather) showed that he could recognize a good lyric as well as write one and delivered the gentle romance of Feather's words beautifully. Her material is ripe for exploration by cabaret performers. 
Winkler got the room percolating with Finian's Rainbow's "Old Devil Moon" (Burton Lane, Yip Harburg) and, in the rich musical sound of the guitar and bass, I could almost hear a brass section burning behind him. Revealing that his next song came to him in a dream, he did a softly pulsing, wonderfully evocative "Bossa Nova Days" (Bill Cantos, Winkler) with more witty and nostalgic references than could be counted in one listening. Utilizing a classic jazz-singer wail, he gave an electric preview of a musical he's working on about the legendary Bobby Troup—"The Three Bears" (Troup,) adapted from the classic fairy tale in a very '60s bop style.  The noir jazz of "When All the Lights in the Sign Worked" (Joe Pasquale, Winkler) set a classic black and white Hollywood scene, brilliantly played by the band whose haunting sound fit his rough-hewn, echo-y voice to a T. Songwriters like Rupert Holmes and Michael Franks have made similar attempts with this type of material, but their efforts don't come close to the mastery exhibited by Winkler.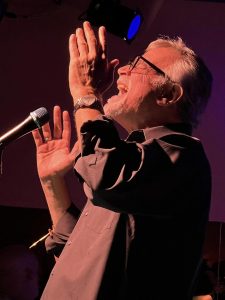 From Claire Martin and Jim Mullen's Wes Montgomery project, he gave us his words to the great guitarist's classic, "Bumpin'," now called "I Could Get Used to This," after a funny story about getting authorized to do so. The most touching moment of the night was "In Another Way" (Michele Brourman, Winkler), his loving and lovely tribute to both his late husband and his current partner, a moving contemplation of loss, and hope, and joy.  "Late Bloomin' Jazzman" (written with Saturday Night Live's Eli Brueggemann) made concrete the theme of age and experience and wisdom that I hinted at earlier, done in the style of, and in honor of, hipster/bopsters of the past like Gil Scot-Heron and Mose Allison.
The night ended with a Quincy Jones-ish arrangement of the pop classic "On Broadway," which was written by a veritable Mt. Rushmore of pop—Jerry Leiber, Mike Stoller, Barry Mann, and Cynthia Weill—whom he acknowledged in his introduction, admitting that his version was inspired not by George Benson but by The Drifters. Whatever its origins or pedigree, it was a total delight.  The enthusiastic applause of the packed room led to an exquisite voice and piano "duet" encore of "Two for the Road" (Henry Mancini, Leslie Bricusse) that provided me with yet another favorite version of my favorite song and left me with the wish that Mark Winkler would make his way East much more frequently. 
###
Presented at Pangea, 178 Second Avenue, on September 14, 2022.
Category: News / Reviews / Commentary, Reviews