Harts' Desire is a one-person tour de force created by multiple award-winning cabaret artist Mark Nadler. Nadler tackles a demanding process and achieves a masterful production; he creates a full two-act musical principally from the works of Moss Hart and Lorenz Hart and presents it on a small cabaret stage. 
There are eight characters, both male and female, a piano as the orchestra, and a dance number, all played by Nadler with skill and bravado. The characters are from three of Moss Hart's plays—Light Up The Sky (1948), Merrily We Roll Along (1934), and The Man Who Came to Dinner (1939), with most of them from Light Up The Sky. The dialogue is also from Moss Hart plays (two done in collaboration with George Kaufman) as well as his autobiography, "Act One." The songs are from 11 different shows by Richard Rodgers and Lorenz Hart. The only exception  are two pieces, "Smart People" (Lorenz Hart, Mark Nadler) and "Good Bad Woman." (Lorenz Hart, Richard Rodgers, Mark Nadler), and Nadler intricately weaves them into his own unique storyline.
Harts' Desire is a reimagining of a time—the 1940s—when homosexuality was a forbidden topic but Nadler treats it as if one could be open about one's sexuality. He skillfully uses that idea to show what it may have been like if Moss Hart and Lorenz Hart had worked together and put their words and music to the task of revealing the truth of their romantic feelings and yearnings towards the people in their lives.
Nadler starts off by asking the audience to consider themselves potential backers for a new musical. He notes that he will play all the parts and sing all the songs, much like it was done in 1943, the time of this story. He then introduces each character with a simple change of posture, expression, and/or voice.  And with that, he sits at the piano and says, "Act One." 
 "Smart People" (Lorenz Hart, Mark Nadler) is the perfect opening number and sets up the action that will take place in a room of smart and semi-smart people. Only the lyrics had existed, and  Nadler wrote the accompanying music in the style of Richard Rodgers.
The story intro to "My Funny Valentine," a song from Babes In Arms (1937), sets the context for a duet of two characters, Owen Turner and Bert Jefferson. Nadler sings the song to express the two characters' deep yearnings for romantic interests in their lives. The exquisite understanding that he brings to the two characters in the moment of the song is evident, revealing the drama of the story that introduced the song. His skill at being each character as he flawlessly switches, even while singing, is impressive. 
"Good Bad Woman" follows in an upbeat, jazzy rhythm which effectively contrasts the sensibilities of the two characters and exemplifies Nadler's attention to detail and creativity. He discovered a Richard Rodgers draft of music to go with a Moss Hart lyric that he also found. The two pieces had never been joined.  Nadler rearranged the music to work with Hart's lyrics, and a song never performed in public before became a part of the show. 
Nadler's interpretation of "The Lady Is a Tramp," (Babes In Arms, 1937) sung by him as the character Stella Riley, a retired vaudevillian, is a loud, music-hall, brassy, triumph, sung with all the rafter-shaking power of Ethel Merman.
He recasts some of the songs by using stories that relate to the song's sentiment and then uses them as a lead-in. A particularly nice touch is with "Bewitched, Bothered and Bewildered" (Pal Joey, 1940) used as an anthem for two characters as they sing it separately, at different moments in Act I and as a duet in Act II.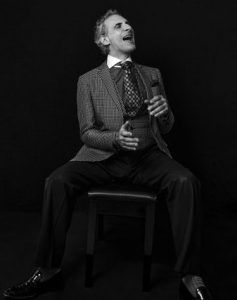 A medley of "I'd Like to Hide It" (Dearest Enemy, 1925)  and "This Must Be Love" is sung by Carleton Fitzgerald, a gay director in his early forties struggling with his attraction to a man in his early twenties. Nadler delivers these songs with a subtlety revealing the emotional struggles of Fitzgerald. " "This Must Be Love" is a change by Nadler of "This Can't Be Love" from the 1938 production of The Boys From Syracuse.
The only issue in this otherwise beautifully executed production is the opening scene in Act II when many characters are gathered in a hotel room waiting for the reviews of the show's opening. Again, Nadler does an exceptional job of shifting from character to character. Still, there are too many characters for the audience to keep straight, especially with no songs to moderate the interactions. 
Nadler's delivery of the characters in singing and speaking covers many types. When a detached, distracted demeanor is called for, he delivers. When it's a broad, attention-grabbing moment, as it is with two of the characters, he delivers. He perfectly embodies the personalities and styles of the characters he inhabits at any given moment. 
The show has twenty-two songs, some of which are well-known to cabaret audiences, but some rarely heard in any venue, such as "I'll Tell the Man in the Street" (I Married An Angel, 1938) and "Good Fellow Mine" (The Girlfriend, 1926), or "Disgustingly Rich" (Higher and Higher, 1940). Nevertheless, Nadler sings them all as if they are as familiar and vital as the other better-known numbers.
 It wouldn't be a musical without a dance number, and Nadler provides that with a tap dance during one of the songs, a mini-production number for a musical. He also provides another mainstay of musical theater, an overture, which opens Act II. 
Harts' Desire is a beautiful show. Mark Nadler has done a remarkable job. If you are a lover of cabaret with an exquisitely articulated story at its heart, or a lover of musical theatre, you must make a date to see Harts' Desire. 
***
Presented at the Laurie Beechman Theatre June 25, July 20, August 24, and September 21.
Category: News / Reviews / Commentary, Reviews