The front lounge at Pangea has become a relaxed, friendly hybrid of cabaret and piano bar with no cover and no minimum.  The talented duo of Karen Mack and Elliot Roth fits the room and the feel to a proverbial "T."  They are both seasoned pros but here, liberated from the restrictions and familiarity of the usual piano bar repertoire and without having to raise the volume to please rowdy patrons, they offer a smart, sophisticated, intriguing collection of songs with Roth's superb piano underscoring his and Mack's smooth, supple, beautifully phrased vocals offering lucky diners and drinkers a superb evening of entertainment.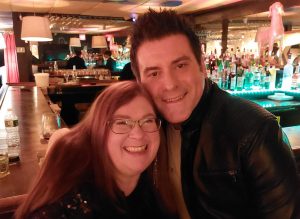 The patter between the two is warm and witty, with nothing forced or trite.  They are so in tune they seem sometimes to finish each other's sentences and thoughts.  It's as if they have been doing this for years. There's just enough chat, and they wisely keep the focus on the music—  intertwining solos, duets and a well-chosen medley or two.  Their song list includes pop, originals (Mack has long been lauded as a fine songwriter), standards, and a healthy seasoning of bossa, which pleased me no end.
"Devil May Care" (Bob Dorough, Terrell P. Kirk) simmers and swings with a hipness harkening back to the days of Blossom Dearie.  Jumping ahead decades and styles, they next give us Jonatha Brooke's "Because I Told You" which brings the beauty of Mack's voice to the fore.  They get extra points just for presenting Brooke's work to a 2022 audience. A wonderful pairing of "My Foolish Heart" (Victor Young, Ned Washington,) with "My Romance" (Richard Rodgers, Lorenz Hart) examines both sides of romantic longing in a moving, musical conversation. Another unexpected choice was Dave's True Story's "Crazy Eyes" (Dave Cantor) which becomes, in their capable hands, a pleasing blend of Brazil and Top 40.
Benny Goodman's "Gotta Be This or That" (Sunny Skylar w/additional lyrics by Mack, Roth) honors their musical predecessors with style and fun. "This Happy Madness" (Antônio Carlos Jobim, Vinicius Moraes, Gene Lees) floats through the room like a South American breeze. Perhaps the most adventurous choice of the evening is "Practical Arrangement" (Rob Mathes, Sting/from The Last Ship) which makes me wish that the duo might consider doing a show in a full-fledged cabaret so that they can explore such weighty material in a more formal setting. They certainly have the chops for it. Roth takes on Basie airs on the wonderful Betty Bryant tune, "It's Hard to Say Goodbye." 
Mack contributed solid new lyrics for "Lembra de Mim"("Remember Me," Ivan Lins, Vitor Martins) which again showed the sparkling affinity the two have for bossa rhythms. Susan Werner's "Petaluma Afternoons" is cannily paired with "Dreamsville" (Henry Mancini, Ray Evans, Jay Livingston), and the creamy sounds caress the audience. Then another about-face to Duncan Sheik's "She Runs Away," which here seems perfectly natural, if not inevitable.  Winning my heart might not have been on the agenda for the evening, but won it was by Roth's superb rendition of the rarely done "It's Always 4 A.M." (Ron Anthony, Sammy Cahn). As the night wore down, the blue-eyed soul delights of Hall & Oates's "Alone Too Long" (John Oates) had me wondering if they might do a polka as an encore since they proved over and over that they could play and sing anything!  But a Polish selection will have to wait until another occasion, because instead the show closes with the pop classic "It's Going to Take Some Time" (Carole King, Toni Wine) in a brilliant arrangement.
The evening is divided into two sets, so committing to the two-hour evening is not necessary but if you are there for the first set, you are likely to stay for the second.  I would have gladly stayed for a third and a fourth set by the marvelous Karen Mack and Elliot Roth.
***
Presented March 19, April 25, May 20, June 6.
Category: News / Reviews / Commentary, Reviews