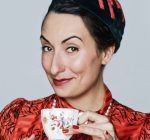 It's always encouraging to see a performer, too young to have personally experienced the subject of her tribute show, go to great lengths to impart to her audience a real-life sense of the honoree. The flip side of that cross-generational combination is, of course, that the distance between live artist and deceased subject can be wide, despite the effort invested in the tribute (research, staging, performance style, etc.). Christine Aziz's loving but loose homage to her fellow Canadian, Tea with Bea: A Tribute to Beatrice Lillie, recently seen at the Duplex, displayed some of the pitfalls of that then-now dichotomy.
Aziz started off well, appearing on stage dressed as an agelessly recognizable Bea Lillie, in a long, black, sleeveless dress and topped by a tightly wrapped black fez with a sparkling brooch at its front. She then began her song set with creditable renditions of two Anthony Newley/Leslie Bricusse compositions that Lillie might have known but was not celebrated for singing: the sly "Typically English Rosebud" (from the 1961 musical Stop the World – I Want to Get Off) and the dreamily wistful "Pure Imagination" (from 1971's Willie Wonka & the Chocolate Factory). To be sure, Aziz did soon deliver two of Lillie's most famous songs, from much earlier in the twentieth century: "There Are Fairies at the Bottom of Our Garden" (Liza Lehmann, Rose Fyleman), neatly approaching Lillie's interpretation, which the Edwardian ladies who wrote their song for children never intended, and "I Went to a Marvelous Party," which Noël Coward wrote for Lillie. Aziz, alas, was overwrought in her reading of this latter song, more shrieking than trilling à la Lillie. And she misspoke the all-important tag line of each verse five out of six times, singing "I couldn't like it more," instead of the correctly tensed and scanning "I couldn't have liked it more."
All the right names were dropped in the course of this show, starting with composer-performer Ivor Novello, whose legendary parties on the French Riviera had inspired this last song. We heard a nice narrative piece on London impresario André Charlot, who discovered Lillie's inbred comic chops soon after she landed in London in her early teens, mentored, and then fired-and-rehired her a total of six times. Another informative bit was the comparison between Bea and her American counterpart, Fannie Brice, who had a somewhat similar comic performance style and an even-more-similar tortured relationship with her producer, Florenz Ziegfeld. And we learned of her ties with Gertrude Lawrence.
The show offered a few too many nearly non-Lillie diversions. Two were occasioned by snippets of transcriptions of Tallulah Bankhead's 1940s radio show, on which she interviewed both Lillie and Ethel Merman, though not on the same program. These truly fun-to-hear snippets led to Aziz renditions of "That Old Black Magic" (Harold Arlen, Johnny Mercer) as Tallulah, and "There's No Business Like Show Business" (Irving Berlin) as Merman. Aziz's vocal impression of Merman was uncanny, but her two visual impressions were not so successful. (Many men have done better impersonations of the deep-voiced Bankhead.) The conceit here was that Tallulah and Ethel were guests at Bea's imaginary tea. (Throughout the show, musical director and pianist Leeran Raphaely greatly helped to set that late afternoon tea-time atmosphere.)
Even the best number in this show really had virtually nothing to do with Bea Lillie. Aziz gave us a truly ravishing version of "Feed the Birds" (Robert & Richard Sherman), which Julie Andrews had introduced in Mary Poppins, because Aziz as Bea "wanted to sing it."
But, where, oh where, was any mention of, let alone a song from, the 1964 Broadway musical High Spirits (Hugh Martin, Timothy Gray)? After all, the composers' libretto was based almost slavishly on Coward's play Blithe Spirit, but with the medium's role beefed up to make Lillie, as the medium Madame Arcati, the star of the show—and the show was directed by Coward, himself. High Spirits was a hit, receiving eight Tony Award nominations; it was Lillie's farewell to live performing, and the last live performance of hers that almost any of us could have seen. One of her songs in it was "Something Is Coming to Tea," and since Aziz's Lillie show was a purported tea party… I'm just saying.
Tea with Bea: A Tribute to Beatrice Lillie
The Duplex – March 16
Category: Reviews