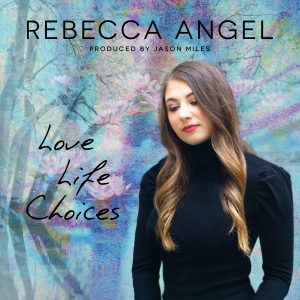 Singer Rebecca Angel's debut recording, Love Life Choices, is in some ways, the perfect summer album, particularly for Summer 2021.  Her smooth, silky, yet surprisingly resilient voice, coupled with pulsing, insinuating music, is like a cooling breeze on a sweltering day.  In this case, however, that breeze contains embers of the fear, concern and pain of Covid-19.  The coronavirus informs this album in subtle, yet dramatic, ways and provides a platform for the well-chosen songs to take on new and interesting stories and meanings.  Producer Jason Miles creates familiar but refreshing musical landscapes, recalling the CTI Records jazz and r&b albums of the '70s and '80s with a bit of Brasil '66 for good measure.  
The stage is set immediately with the opening number, Stephen Stills's Vietnam era classic, "For What It's Worth" which is recast as a chilling observation of the failure to deal with the pandemic.  It works disturbingly well, with Angel's understated urgency especially effective.  Miles' keyboard work, here and throughout, is exemplary. "Till Now (Gymnopèdie No.1)" (Erik Satie with words by Angel) was an oasis of calm in the turbulent '60s, and here it serves a similar function against the isolation, trepidation and irritation of quarantines and lockdowns. The lyrics undercut somewhat the success of the song; they are too prosy, with not enough attention paid to structure and rhyme to be totally effective.  Her two originals later in the CD, "Thoughts and Prayers" and "Summer Song" are similarly weakened by lazy or faulty rhymes.  How much stronger the two of them would be if a little more care went into their crafting (e.g, "world" does not rhyme with "girl," and "little ways" is not an acceptable rhyme for "different way.")  Each lyrical glitch takes me out of the story of the song. Her melodies, on the other hand, are fine.
Jason Miles penned "Side by Side," and his keyboards and drum programming, along with Dennis Angel's controlled flugelhorn, offer a light, whispery sound with glimpses of depth and edge. On a wonderful reworking of the classic, "Just the Two of Us" (Ralph MacDonald, William Salter, William Harrison Withers), Maya Azucena's backup vocals offer a luxurious cushion on which Angel's creamy vocals can recline. The whole number is given a lovely sheen by Ada Rovatti's tenor sax. Angel's beautifully rhythmic phrasing takes the story of Bob Marley's "Waiting in Vain" away from its reggae roots and, along the way, gives the lyrics a new life with rare clarity and emotion. 
Her delicate, thoughtful delivery of "Corcovado" (Antônio Carlos Jobim) gives it a wonderfully gentle sensuality that is enhanced by Romero Lubambo's guitar and Dennis Angel's flugelhorn (once again). Another Jobim classic, "Waters of March," is a shimmering duet with Pamela Driggs that leaves me wishing the song were twice as long as it is.  "Maureen" (Paul Spencer Denman, Andrew Paul Hale, Sade) is a revelation leaving me wondering why more singers don't "raid" Sade's catalog.  The singer makes the song her own with brilliant phrasing, pulsing delivery, and crystalline background vocals. 
This album has such a pleasing sound, and Rebecca Angel is such an accomplished and ingratiating vocalist that it is easy to ignore (or at least forgive) my lyrical reservations and just immerse oneself in its refreshing, singular sound.  It's a terrific introduction to a delightful singer.  
Category: News / Reviews / Commentary, Reviews