I first reviewed Karen Mason back in the "golden days" of NYC cabaret, at the Duplex,  just after she moved from Chicago to NYC and then, a bit later, at the opening night of the cabaret room at Don't Tell Mama.  She was an electrifying vocalist, a spellbinding and open-hearted storyteller, and a star. She has never stopped exploring, experimenting, and perfecting her art, which brings us to her latest recording, Let the Music Play. Exquisitely produced and arranged by several long-time members of Mason's camp and utilizing everything from a solo piano to a full orchestral complement of first-rate musicians, the CD has a timeless, classic sound that gives the singer all she needs at every turn. She ties it all together in a way that hasn't been heard since the glory days of pop recording. But this is far from a museum piece. The power, the wisdom, and the emotional honesty of her performance is as vital and contemporary as one is likely to hear.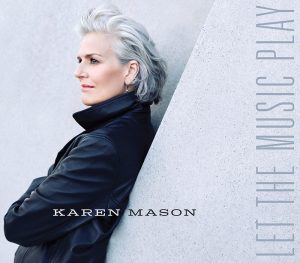 The title song, written by two "hall of fame" cabaret composers, Paul Rolnick and David Friedman, is a joyous, hopeful statement of the healing, heroic power of music to rescue the world from the hell of COVID. It is a thrilling opener. An immediate and equally exciting change of mood is supplied by a haunting medley of "On Broadway" (Barry Mann, Cynthia Weil, Jerry Leiber, Mike Stoller) and Stephen Sondheim's "Broadway Baby."  It is a tentative yet hopeful dream of life returning to the Great White Way. Another surprising pairing follows—quotes from "Tonight" (Leonard Bernstein, Stephen Sondheim) circle around the Big Band blast of "Steppin' Out with My Baby," grounding and contemporizing the Irving Berlin classic.
"He Touched Me" (Milton Schafer, Ira Levin) has rarely sounded as romantic as Mason lets loose all the emotions of overwhelming first love. "Time" (Joseph Thalken, Barry Kleinbort) gives us a view of that love in hindsight with heart-stopping beauty. Paul Rolnick is one of the heroes of this recording, as both musician and songwriter. His "Talking to the Moon" (with lyrics co-written by Jane R. Snyder) is a contemporary love song ripe for elevation into the Great American Songbook. The heartbreaking longing of the poetry is given its due in Mason's moving performance. Broadway is a continuing presence on this album, as beautifully exemplified by the singer's rich yet understated vocal, wringing every emotional nuance from "For Good" (Stephen Schwartz, from Wicked), aided immeasurably by the composer's delicate, driving piano. 
Another Berlin classic, and one of Mason's star turns on Broadway, "Mr. Monotony" (from Jerome Robbins' Broadway) grabs the listener with its grinding, insinuating rhythms right down to her memorable final notes.  Using that theatrical memory as a jumping off point, she leaps into a blazing "Don't Rain on My Parade" (Jules Styne, Bob Merrill) which she fiercely and fearlessly makes her own. Even here she remains totally in control, never letting the high drama descend into histrionics. If goose bumps don't result from hearing this track, I would suggest an immediate visit to a heart specialist. The innocence and child-like wonder that she brings to "When You Wish Upon a Star" (Leigh Harline, Ned Washington) makes it the perfect lullaby for our times. This is followed by a grown-up contemplation of the solitude imposed by the world, "Is There Anybody Out There?" (Rolnick, Tom Kochan); it might easily be mistaken for a newly written response to lockdown and quarantine, if one didn't know it was composed in the last century.
The political strife that has remained concurrent with the health battles that span the world is given a thoughtful examination in Rolnick's "Jerusalem," with Mason donning a Judy Collins/Joan Baez coat of peaceful colors. Accompanied on piano by composer David Friedman, the singer transforms his "We Can Be Kind" into an antidote for our woes as powerful and important as any vaccine. The times in which we live also transform Julie Gold's "From a Distance," in Mason's passionate performance, into a parable for renewal and return to normalcy. The stunning simplicity of her take on "In My Life" (John Lennon, Paul McCartney) closes what is both a survey of her art till now, and a promise of treasures still to come. 
Then follows a literal flashback to her storied career with a remixed version of Rolnick's "We Never Ran Out of Love (We Just Ran Out of Time)" from her earlier CD, When the Sun Comes Out.  It is yet another song that could have been written as a direct response to 2021. It is a perfect bookend to the rousing opening number. 
For people newly discovering the singer, Let the Music Play is a perfect introduction to one of the iconic cabaret voices. For those who have been fans for all these years, it is a happy reminder that sometimes the good things do survive. Karen Mason, an artist at the top of her game and who has never sounded better, gives us a definitive declaration of her timeless talent. It is her masterwork, at least until her next recording. 
***
Category: News / Reviews / Commentary, Reviews