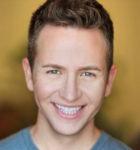 Cacophony Daniels is the drag alter ego of Courter Simmons, a talented actor/singer who recently ended a run in Broadway's Jersey Boys. When Simmons was growing up he felt a special affinity for the songs, the characters, and the stories of lyricist and writer Howard Ashman. In his show "Under the 'C'," he used Cacophony and songs from classic Disney films and theatrical musicals (hits and otherwise) to pay tribute and say "thank you" to the writer who was one of his lifelines as a boy struggling to grow up, come out, and be happy. He saw similarities in his life and Ashman's that only strengthened the kinship he felt.
On a stage surrounded by inflated sea creatures hanging in the air (conjuring up The Little Mermaid), Cacophony, resplendent in a green gown that appeared to be made of scales, opened with a real find from Oliver & Company called "Once Upon a Time in New York City" (music by Barry Mann). It invited the audience to join in the singer's very own fairy tale—and revealed a strong, impressive voice that would, I suppose, be described as a tenor for lack of a better word, but possessing angelic falsetto notes and raw rough low tones when needed. "Belle" (Alan Menken, from Beauty and the Beast) proved to be neatly autobiographical and had a life of its own divorced from the classic cartoon.
Right from the top, the patter was inviting and informative, with just the right amount of information about both the singer and the songwriter delivered with enthusiasm and warmth. "Under the 'C'" was a perfect example of how to incorporate biographical bits into a tribute show and thread the story seamlessly, always connected to the songs and the emotions without becoming pedantic or irritating or (worse) boring. The usual bittersweet adult memory of "Disneyland" (Marvin Hamlisch, from Smile) was replaced with childhood dreams and longing, becoming even more moving and wistful. Such transformations occurred song after song, as Cacophony made each one a personal and unique moment. In his/her capable hands, "Call Me a Princess" (Alan Menken, cut from Aladdin) might well have been renamed "Call Me a Diva". It was followed by what must be the slinkiest take on the same film's "Poor Unfortunate Souls" ever sung.
One of the sure tests of any show of Ashman songs would be his classic "Somewhere That's Green" (Menken, from Little Shop of Horrors); the test was passed with flying colors. While recalling and honoring the Ellen Greene original, this version had its own unique sweetness and sting; a little giggle after the line "…our bedtime, 9:15" was perfection. A dizzying and delightfully wordy food medley was followed by "Growing Boy" from Babe (an unfinished musical with Menken), in which every sly turn of phrase was milked for all its worth. A song written in response to the devastating losses during the height of the AIDS epidemic called "Sheridan Square" (written after Ashman, himself, had been diagnosed) was the emotional high point of the evening. In introducing the song, Cacophony said, "Speaking as a gay man myself—yes, there's a man under here," and sure enough, as the singer dug deep, all of the stage decoration, all of the make up, all of the drag disappeared as we watched one man confronting the pain, the fear and the muted anger ever present in those plague years. It was stunning.
The (sort of) title song, "Under the Sea" (Menken, from The Little Mermaid), closed the show with fun and smiles, followed by an encore of the inevitable "Suddenly, Seymour" (Menken from Little Shop of Horrors). My personal aversion to this overdone piece of piano bar hell was actually put on hold for its duration. On this song, and throughout the evening, Cacophony received stellar support from music director Kyle Branzel on both piano and vocals. Sitting there in a bow tie, looking for all the world like a younger, handsomer Anthony Perkins, he was literally beaming with joy at being part of this, and it was totally understandable. Jonathan Hadley's direction was sure, smart and smooth. Thomas Honeck's always-terrific lighting seemed particularly evocative and inventive.
One slight criticism would be that too often the singing got too big for the microphone and for the room. But that should clear itself up with time and experience. Courter Simmons didn't just give us a drag show; he used the character of Cacophony to enrich and deepen the material, never just relying on the conventions of drag, but constantly surprising and reinventing. Considering that this was his cabaret debut—his very first performance of his very first show—it is thrilling to contemplate the "whole new world" awaiting him, and us, when he returns to the cabaret stage. I hope that will be soon.
"Under the 'C': Cacophony Daniels Sings the Songs of Howard Ashman"
The Duplex – May 8
Category: Reviews