Repertoire for the Once and Future American Songbook
Song #4 in this running series
The cable came directly from Audrey Hepburn, who was in France shooting her latest film, with director/producer Stanley Donen.
"Dearest Hank, please won't you do the music? … Can't imagine anyone else but you scoring."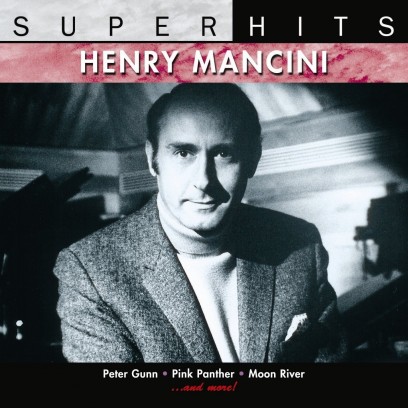 How could Henry Mancini refuse the request of his elegant huckleberry friend, who had been such a big part of his early success as a film composer? Mancini had scored the film adaptation of Truman Capote's Breakfast at Tiffany's (1961), in which Hepburn sang "Moon River," a ballad that would earn him and Johnny Mercer a best-song Oscar. He'd performed similar chores for 1963's Charade, which starred Hepburn and Cary Grant.
According to John Caps, in his illuminating study Henry Mancini: Reinventing Film Music (University of Illinois Press, 2012), Mancini, in the mid-1960s, was at a transitional point in his career. He was, Caps writes, seeking "a broadening of the dramatic architecture of his orchestral writing into scores that were not just collections of admirable tunes and isolated film scenes but more cohesive compositions as well."
Still, coming up with the main theme for Donen's Two for the Road (1967), turned out to be unusually challenging for Mancini. The film's nonlinear screenplay focused on the squabble-filled marriage of a sophisticated British couple portrayed by Hepburn and Albert Finney—a relationship fraught with trouble, yet enduring. (I imagine that screenwriter Frederic Raphael was inspired by the verbal sparring  between Richard Burton and Elizabeth Taylor in the 1966 film version of Edward Albee's Who's Afraid of Virginia Woolf?)
Taking a look back in his 1989 autobiography, Did They Mention the Music?, Mancini admitted: "I wrote one melody as a theme, but Stanley wasn't taken by it. He said, 'It's very nice, but I don't get anything from it. It doesn't move.'" Two for the Road, despite its non-sequential storyline, was a road movie. It needed a sense of propulsion.
Mancini went back to work and devised the melody that would become not just the picture's main theme but also the song "Two for the Road." (Leslie Bricusse's lyrics came later and were not heard on the film's soundtrack.) This melody became Mancini's own favorite among his movie themes, and the favorite of his wife, Ginny, as well. 
Bricusse also admired what Mancini had done.  He told Caps in 1995, "I love when his tunes go into those strange little melancholy side-waters where he sometimes sends them. I love that about 'Two for the Road.'"
Caps points out that the haunting nature of the tune has largely to do with its succession of "yearning, plying chords." Mancini himself observed that the harmony "is constantly changing and the bass line is going downward contrary to the melody." 
A good share of the song's success is due to Bricusse's plainspoken, yet wise, lyrics. This is a song not about young love but about a mature relationship. The singer invites the listener to "come wander through the world with me." Note the echo here of Mercer's words for "Moon River": the notion of "two drifters off to see the world." Bricusse's most striking moment comes with the unforgettable couplet: "In summertime the sun will shine. / In winter we'll drink summer wine." That lyric makes the song.
The word "love" appears only once in this love song, and it's personified and part of a conditional clause: "As long as love still wears a smile…." The song excels in part because of Bricusse's sweet knack for making quotidian language profound. In his 2006 memoir The Music Man, he claimed that the words were "a joy to write," adding, "Certain melodies tell the lyricist what to say, and all he has to do is write it down."
"Two for the Road" saw several early recordings, by such vocalists as Ed Ames and Peggy Lee.  (Hear Peggy Lee.) But it was not recorded by many of the expected top-name singers of 1967: Sinatra, Garland, Streisand, Bennett, or Fitzgerald. Over the decades, though, it has been recorded by a parade of cabaret and jazz singers, including many Bistro Award winners: Karen Akers, Eric Comstock, Michael Feinstein, Hillary Kole, the late Nancy LaMott (Click for this must-hear), Andrea Marcovicci, Sue Raney, Parker Scott & Wells Hanley, Sandy Stewart & Bill Charlap, and Stacy Sullivan.
Marcovicci first fell in love with the melody as a girl, when she saw the film with her first boyfriend. She would later perform it on her 1988 album Marcovicci Sings Movies, as well as in her early shows at the Gardenia Club in Los Angeles and the Algonquin Hotel's Oak Room in Manhattan. The song was heard in many of her later shows, too, although her approach to it has evolved with the passing years.
"When I first did it…," she told me in a phone call, "I put it in the category of 'songs from movies that effed us up,' and I made an entire story about Audrey Hepburn movies and how dangerous they are because we'll always try to get down to our original weight of six-and-a-half pounds." In a later show, she changed the arrangement, adding a spoken interlude in which she talked about falling in love, marrying, and starting a family. When she picked up musically after this break, with the "summertime / summer wine" passage, "the song had taken on a whole different color."
She also performed the song on The Tonight Show with Johnny Carson, in a lush arrangement featuring a loving trumpet solo by Doc Severinsen. Marcovicci was scheduled to sing a second number that night, but a segment in which Carson faced off with a supposedly verbose but suddenly silent parrot went long, eating up her on-camera time. "From that point on, I have hated parrots," she admitted. (Listen to Andrea Marcovicci.)
Bistro-honored vocalist Jeff Macauley used the song as the closing number of his Metropolitan Room show Mister Lucky: The Songs of Henry Mancini, first performed in 2015. He half-jokes that the whole evening may have been created just so he could sing this particular song. "This is a favorite of many Mancini fans," Macauley noted, "so saving it for the very end is a little sadistic on my part. There may be a certain suspense and worry that they won't actually hear it, so they're relieved when they finally do, and they leave happy. It's a cheap trick but it works."
He recalled hearing Marcovicci perform the song at the Gardenia: "It may be my favorite song to hear her sing live. But it's one of those songs that, as soon as I hear, 'If you're feeling fancy-free…' I'm just drawn in and curious to see where the singer takes me."
Macauley elaborated that his musical director and pianist for Mister Lucky, the late Tex Arnold, wrote "an exceedingly gorgeous arrangement" for the song: "Tex…had a very romantic soul, I think. He understood the 'road song' nature of it and wrote this gorgeous melancholy rolling figure in the first few bars that carries through the whole piece. There's a driving sense to this song that makes it work best with a more structured framework. A free, rubato take could work with the first few measures, but you eventually need to hit that on-ramp with a steady pace." (Click here to listen to Jeff Macauley.)
One challenge that the song presents for singers is that it has no verse, and the entire number is quite short. Marcovicci pointed out that most singers follow her practice of adding an instrumental interlude after the first sing-through, then picking up again with the "summer wine" passage, singing it in a more impassioned way than before.
Other vocalists have chosen to pair it with another song. For instance, in a 1987 performance with Mancini conducting, Johnny Mathis followed it with the title song from Charade. (Listen to these two classics sung by Johnny Mathis.)
Singer Ben Cassara and his musical director, Tedd Firth, included "Two for the Road" on the 2013 CD Sister Moon, coupling it with "And We Were Lovers," a theme from the 1966 film The Sand Pebbles, with music by Jerry Goldsmith and lyrics by Bricusse—a song Cassara had remembered from his mother's copy of an old Andy Williams album. (Listen to the medley from Ben Cassara accompanied by Tedd Firth.)
Cassara, who performed in cabaret clubs before transitioning to jazz, told me that he would treat the Mancini/Bricusse song "pretty much the same way" in a cabaret setting as in a jazz club, though possibly with a more "harmonically challenging" arrangement in the jazz venue.
In the end, no matter how you present this emotionally rich song, you likely won't go wrong by heeding Marcovicci's advice:
"Make it a real request, a real invitation. And mean it—as you should all the lyrics you sing…. I mean, you could do this as a light little bossa nova and just throw it away. That's not the way I think it needs to be sung."
Category: News / Reviews / Commentary