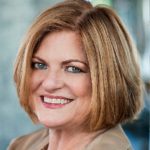 In Late to the Party, her recent show at the Laurie Beechman Theatre, directed by Barbara Grecki, Brooke Davis touchingly and comically re-invented the autobiographical cabaret hour by appropriating mostly familiar songs in a partly new context. She even had a somewhat non-traditional backing trio: music director, arranger and pianist Darren R. Cohen; Peter Sachon on cello; and Jeff Roberts on drums. Davis turned the chronological timeline around, opening her show by singing her real-life punchline: "Every Street's a Boulevard (in Old New York)" (Jule Styne, Bob Hilliard). The rest of her set was a finely tuned (pun intended) flashback to an in-order rendering of the thirty years it took her to finally arrive in the big city to work. Her dream was deferred, but it was always there.
Her early life out west had been somewhat prosaic, as Davis outlined in an effective tripartite medley. "In My Own Little Corner" (Rodgers & Hammerstein) reflected a basic contentment with her youth in Phoenix; "Part of Your World" (Alan Menken, Howard Ashman) expressed a longing for a wider world, where people danced, among other things. But like the Little Mermaid of the song, Davis couldn't expect to dance much, at least not for a living, but for a different reason. By the time she was in fourth grade, she was six feet tall. Still, she found an adequate alternative enthusiasm in school plays and local theatre.
 At Stephens College in Missouri, while in pursuit of a theatrical career, she was warned by a fluty, snooty teacher: "On Broadway the men are short and you are very tall." Besides providing a song cue, for—what else?—a fiercely funny rendition of Randy Newman's "Short People," the remark was enough to change Davis's major to business and send her back to Arizona, where she went on her first and only "Blind Date" (Kander & Ebb)—and ended up marrying him. They built a life together and Davis found paying work in Tucson in the performing arts,  largely behind the scenes, and her lawyer husband, Barry, adored her.  "In Buddy's Eyes" (Sondheim), she was young and beautiful; in her own view, it was past time to go to New York and get on with a musical career.
"You're Gonna Hear from Me" (André and Dory Previn), an aspirational staple from some fifty years ago, was gorgeously resurrected here for the imminent breakaway from home in Tucson. In New York, she was undaunted by a few iffy Broadway auditions (recalled here in a comically painful medley), and she gave us an even older upwardly mobile anthem, Steve Allen's "This Could Be the Start of Something Big." It wasn't, but Davis did find steady work on television and in mostly regional theatre, ultimately finding her true home in cabaret, as this show clearly demonstrated. Brooke and Barry didn't divorce or even truly separate, as she often traveled back home to Tucson to be with him; Sondheim's "Leave You" was nicely repurposed to say "no way are we splitting." Her hilariously rendered "Anything You Can Do" (Irving Berlin), sung to her husband on a cell phone, was similarly re-imagined—she and Barry weren't really competing in any way.
Her set did contain one outlier I could have done without: the much overworked "The Boy From…" (Sondheim); Davis's rationale for including it was the weak assertion that she and her husband liked to vacation at beaches. On the other hand, the overdone "Here's to Life" (Phyllis Molinary, Artie Butler) worked well here as a moving coda to William Finn's "When the Earth Stopped Turning."
Late to the Party
Laurie Beechman Theatre – February 24, 25, March 1
Category: Reviews