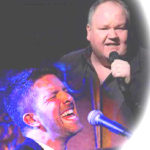 I'm not certain I fully understand the point of the musical genre "Blue-Eyed Soul," which is essentially a nickname for soul music (and/or Rhythm & Blues) sung by white people. The term was reportedly coined by an African-American deejay at a radio station in Philadelphia who wanted to subtly inform his listeners that certain of the artists whose music he admired and played were, in fact, white folks. The term is not without controversy. Daryl Hall of Hall & Oates—an act that is often singled out as part of this genre—is one performer who has objected to it. To him, soul music is soul music, and no breakdown by race is necessary or helpful. In the spirit of the old "Love Sees No Color" credo, I tend to share his sentiments, though I understand black artists' apprehension about having their sounds appropriated by interlopers. In any case, a sizable number of musicians have found their work tagged with the "Blue-Eyed" label over the years, beginning with such acts as The Righteous Brothers in the early 1960s. The term has been applied to acts ranging from the Beatles and Janis Joplin to current vocalists, including Justin Timberlake and Adele.
At a recent Don't Tell Mama show called Blue Eyed Soul (hyphen MIA), Brad Simmons and Lennie Watts celebrated the tradition of this musical style. As someone who listened to mainstream pop music during the 1960s, 1970s and early 1980s, I found the show to be a highly pleasant hour's trek back in time. I'd experienced the exuberant Watts singing similar sorts of pop music in other outings, but I was unfamiliar with the work of Simmons, a likable singer-pianist who knows his way around moony soft-rock ballads as well as funkier up-tempo numbers. As the duo explained early in the set, this was their first time working together. I hope it won't be their last, as they seem to complement each other well. They're supportive of each other's talents, but they lace their performance with a mild dose of mock competitiveness. Both of them seemed to be having a grand time throughout this show, starting with their apt opening number: a mash-up of "Play That Funky Music" (Rob Parissi) and "Freedom! '90" (George Michael), which set the tone for the evening.
The show's song list included material from geographically disparate artists. There were songs associated with Ambrosia (a California-based band), Orleans (a group from Woodstock, NY, that performed music with Louisiana roots), and Simply Red (a British soul group). The Hall & Oates career was celebrated with a medley of excerpts from seven of the duo's earwormy hits. (Perhaps Simmons and Watts will consider a follow-up show focusing solely on the careers of the musically charismatic H&O.) Simmons and Watts found time to explore what they claimed is a sort of companion genre of Blue-Eyed Soul: Yacht Rock. This is music with roots in Southern California sailing culture, featuring lyrics extolling the pleasures of gliding along the open sea. The Grammy-winning 1980 hit "Sailing" (Christopher Cross) is perhaps the most familiar example of the type. While the Yacht Rock sequence was a moderately enjoyable tangent, maybe time might have been better spent on songs popularized by more recent "blue-eyed" acts, such as Timberlake and Amy Winehouse.
Simmons's arrangements for the show often tended to hew closely to those of the recordings that made the songs famous—but not always. For instance, Watts took the lead on the raucous Dusty Springfield hit "Son of a Preacher Man" (John Hurley, Ronnie Wilkins), which was given an unfamiliar, appealingly jagged rhythm. I found "Preacher Man" to be the most satisfying Watts performance of the evening. As for Simmons, I was especially partial to his achingly crooned pairing of "Every Time You Go Away" (Daryl Hall) and "Baby Come Back" (Peter Beckett, J.C. Crowley). Surprisingly, the pair waited until their encore to give listeners their rousing rendition of the song that seems to have set off the whole "blue-eyed" business in the first place: The Righteous Brothers' "You've Lost That Lovin' Feeling" (Phil Spector, Barry Mann, Cynthia Weil).
Blue Eyed Soul contained just the right amount of spoken word, mostly comprising remarks about the genre and its artists. Watts and Simmons joked with one another intermittently. And at the end of the performance I attended, Watts delivered a jaw-droppingly spot-on impersonation of Don't Tell Mama's booking director, Sidney Myer. But mostly the performers' showmanship emerged in the music itself.
Blue Eyed Soul
Don't Tell Mama  –  April 2, 9, 16, 23
Category: Reviews