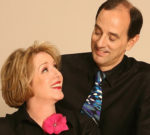 At the start of their current new show at Don't Tell Mama, Anya Turner, the lead-vocal half of this married couple's self-written evening of what she calls "modern cabaret" songs, acknowledges that this description might just be an oxymoron. Not to worry. A cabaret show need not be a compendium drawn from the American songbook, great or otherwise, nor a new twist on someone else's golden oldies. So long as the performers reach a relatively intimate, attentive audience with their lyrics (especially) and their music, it counts. Variety in the song set helps, and Turner and her husband, Robert Grusecki, provide a good deal of that—in their writing, her singing, and his piano and vocal accompaniment. The prolific couple has co-written enough material so far to fill five CDs, two Off-Broadway shows, and three songbooks. Sixteen numbers from their body of work are heard here, including five brand new ones.
The first premiere we hear is the act's title song, "Hello, West 46th Street," a bouncy anthem that celebrates the city block with a storied cabaret tradition and on which Don't Tell Mama still sits. As the lyrics have it, "Barbara Cook at Brothers and Sisters and Blossom Dearie whispering her show at Danny's" are gone from this Restaurant Row, but "Sidney's place goes on and on and on." From this somewhat retro-styled number, the couple soon moves on to their promised contemporary cabaret. If not exactly ripped from the headlines, a pair of effective songs deals with the newly wide discussion of transgender persons. Another new song, "When I Was a Little Girl," poignantly sung by Grusecki, tells of a little boy who "always knew (did you know too?) that I was a little girl." Turner then offers an equally effective "Caitlyn," a song from 2015 that celebrates another boy who became "The brand-new reconstructed me" and who well understands that she "will never be the way I was before."
A second his-and-her pairing pays sentimental tribute to ancestry. Grusecki sings of "Paul," his Russian grandfather whose family fled the Cossacks to come to America, and Paul's progeny. Then, in "Janet (and like that)" Turner assumes the role of her 85-year-old mother in her contently minimalist later life. In the course of this song, Turner proves to be an astonishing actress, virtually morphing into her elderly parent–without benefit of costume or makeup changes—a triumph of a purely organic portrayal. A warm and wide-ranging contralto, Turner also scores with satire, as in "Fifty Is the New Twenty-Five," and wistful speculation, as in "Harper Lee." The former notes, "If I need a touch of Botox to bloom and to thrive, what the hell." The latter song was inspired by the reclusive author of "To Kill a Mockingbird," who resided in the couple's Yorkville neighborhood. The singer says to the writer, "When fame and fortune made you clammy/ You went back to Alabammy"; later she says, "Harper Lee/ Talk to me/ And tell me that it's time to go home."
Turner and Grusecki don't deal much with their own marriage per se in their works heard here, but they do tell "How Do You Write a Song," or at least how they do it. ("You hum, you pace. You moan, you mutter. You laugh, you cry. You curse and sputter 'til it's done. It's fun." They also detail some of the aspects of creating a musical in "We Wrote a Show," perhaps wandering into the specific weeds a bit too much. ("We booked a theatre and hired a rep to spread the word.") With sixteen songs in the program, there were bound to be a ringer, a curtain-raiser or a scene-changer or two in the bunch, and indeed there are, along with just a few lyrics that could use some tweaking or filling in.
Also, about half way into the show, I started to be bothered by Turner and Grusecki's physical separation, even on a small stage. She of course sings and narrates from center stage, and he sensibly sits to the side, at the piano, even when he solos. (She does join him at the piano for one duet.) Standing together, for at least a song or two, during the show would appropriately emphasize their seemingly seamless collaboration. I'm not sure how even a director could rectify this slight presentational flaw, short of perhaps engaging a guest accompanist for a couple of numbers, enabling the pair to appear and interact center stage as a couple. But then that gambit could detract from Grusecki's gorgeous playing.
"Hello, West 46th Street"
Don't Tell Mama – July 19, August 23, September 20, November 20
Category: Reviews