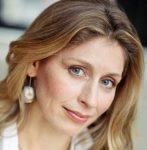 With her sophisticated presence, the clarity of her voice, and a professional skill set that assured us that "she's got this," Ann Kittredge brought so much to her recent offering at the Green Room 42. Titled Fancy Meeting You Here: An Evening of Ahrens & Flaherty," it showcased repertory from the songwriting duo's recent Broadway shows. Lynn Ahrens and Stephen Flaherty have written a large and award-winning body of work; their identity as a team is reminiscent of the classic American Songbook songwriters, including the beloved ampersand between composer and lyricist, or in this case, lyricist and composer. Kittredge told us that the writers, themselves, were collaborators in her cabaret, with Ahrens supplying custom alternative lyrics by email as-needed.
We saw Kittredge at her most engaging in ballads, among them the trunk song "Garden" in a performance that invited us into the vulnerability of a woman whose garden is her source of comfort and security, and a simple, intimate rendition of "Love's Never Lost" (from A Man of No Importance). She sang in her lovely soprano range in the toe-tapper "Shut Up and Dance" (My Favorite Year), and she was joined by guest singer Andy Lebon in one of the most evocative and personal songs of the evening, "In the Bend of My Arm" (Dessa Rose).
But what I missed from the experience was the chance to get to know a little more about Kittredge's own artistic sensibilities. Cabaret provides such a unique opportunity to tackle songs in a way you couldn't if you were cast in the shows themselves—it's a chance to try things on a more intimate scale, with the option of making choices the character the song was written for might not make. Kittredge and director Andrea Marcovicci opted to evoke moments from the musicals from which the songs came, with the title of the show displayed on monitors, and often using accessories to indicate whether the character was French (Lucky Stiff), Irish (A Man of No Importance), or a boxer from Philly (Rocky). While Kittredge is versatile—and one could imagine that as an experienced musical theatre performer she may have felt inspired to honor the original context of the songs—I felt these broad theatrical choices weren't as nuanced as she is.
Musical Director Alex Rybeck on piano and Michael Goetz on bass played beautifully throughout the evening—with Rybeck opening the performance with a welcoming instrumental prologue to Ragtime. The instrumentalists showed especially adept rhythm and phrasing, and maintained an attentive ear on Kittredge, whose rhythm was also crisp and very specific. The encore, "Human Heart" (Once on This Island), was satisfyingly stripped-down, with an arrangement letting the bass comment with a deep thump-thump. This is how I would have loved to hear Kittredge all evening: as if trusting that the impact of her presence and the quality of her material and collaborators would be more than enough.
Fancy Meeting You Here: An Evening of Ahrens & Flaherty
The Green Room 42 – March 5
Category: Reviews