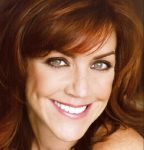 Nostalgia can cover a multitude of sins or situations. Even better if the nostalgia is shared. In the case of Andrea McArdle's recent new show at Feinstein's/54 Below, the happy remembrance of things past was needed to leaven only one ongoing hiccup. And this particular glitch her audience's group nostalgia overcame very nicely indeed. "I'm sick," McArdle announced, almost cheerily, following a seemingly throwaway rendition of her opening number, "Zing Went the Strings of My Heart" (James F. Hanley), the selection perhaps a subtle reminder of the fiftieth anniversary of Judy Garland's death that weekend. (The overt Garland tributes were to come later in the set.)
McArdle never specified her illness, but it was clearly froggy/throaty/nasal. Over the next hour or so, she referred to it often, with lines like "we'll work through this." Not to worry. Those of us who remembered seeing her indelible turn as the original "Annie" on Broadway in 1977, plus some who could only have heard about it from their elders, appeared not to mind in the least. "You sound great," some audience members shouted when she said things like "I do like texture in my voice, but this is ridiculous. I want raspy in my voice when I put it there, but not this way."
McArdle's own performance style also contributed to the success of overcoming this medical setback (to which she acquiesced only, perhaps, by sitting on a stool for too many numbers). She is, after all, a true "Broadway Baby" (Stephen Sondheim), as her second number and its spoken intro reminded us, as if such a reminder were necessary. She's not having a comeback or a return to singing for her supper, or all her meals; at age 55, this is still what she does, on Broadway, on tour, and in clubs, and always has done since she became the youngest actress in a musical ever nominated for a Tony Award (and remains so). Her go-to singing stance is to belt to the balcony, which at Feinstein's/54 Below isn't very big, high up, or far back. And, in her own words, her evening's song list consisted of "one eleven o'clock number after the other." It also contained a healthy but welcome portion of signature songs of other artists, most of whom she had known or worked with. These selections included "New York, New York" (Kander & Ebb) augmented by "NYC" (Martin Charnin, Charles Strouse, from Annie),"Before the Parade Passes By" (Jerry Herman), and, most impressive, "If He Walked into My Life" (Herman). McArdle's unbidden rasp worked especially well in this last number, heightening the sense of longing and regret that she beautifully plumbed, but is too often missing from renditions of this number.
Given her charming way with anecdotes and narrative chat, and her unbowed vocal prowess, McArdle doesn't need much help on stage. There is no backup band, save the exemplary music director and pianist Steve Marzullo. Her friend Felicia Finley joined McArdle on two smashing duets: "The Girls of Summer" (Sondheim) and a recreation of the Garland/Streisand 1963 TV mashup (before they were called such a thing) of "Happy Days Are Here Again" (Milton Ager, Jack Yellen) and "Get Happy" (Harold Arlen, Ted Koehler).
McArdle will be making her debut as a director of cabaret for Finley's upcoming show, but she has clearly been learning that extension of her craft by working with other directors for some 42 years. For this self-directed show, she didn't need to be told to close with her own signature song/eleven o'clock number, "Tomorrow" (Charnin, Strouse), or to encore with a Garland medley of "The Trolley Song" (Hugh Martin, Ralph Blane) coupled with what is perhaps the ultimate signature song of them all, "Over the Rainbow" (Harold Arlen, E.Y. Harburg).
Feinstein's/54 Below – June 20, 21, 22
Category: Reviews