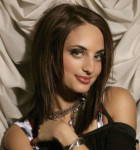 Make no mistake about it, from the moment she takes the stage, she takes the stage. Her voice is strong and her musicality is secure. Her crisp eleven-song, fifty-minute set goes beyond eclectic, and she somehow seems to know that her audience is ready to make the journey with her. At age 28, Alexa Ray Joel possesses an astonishing knowledge, and absorption, of the music that has gone before her, and she often charmingly bends it to her will. "The songs I like to hear are not the songs you hear on the radio," she understates. "If I had only been around back then," she laments. Her influences are myriad, and only partly parental. Yes, she is the daughter of Billy Joel and Christie Brinkley. She neither ignores that fact, nor trades on it unduly, paying tribute in this set to her parents, once each, separately, and once together.
Both Billy Joel and his daughter are great admirers of Ray Charles. (Where did you think she got her middle name?) Alexa Ray begins her set with Charles's "I Got a Woman (Way Over Town; She's Good to Me)," which she has transformed into "I Got the Carlyle (way uptown; it's good to me)." Thus she eulogizes the legendary venue, "elegant and old-school New York," and the performers who have preceded her there, and vows to make herself worthy of that ambience and heritage. Ray Charles was very much on her mind when she wrote the words and music to "Song of Yesterday." Joel was inspired in the composing and the singing of this song by his version of "Georgia on My Mind" (Hoagy Carmichael, Stuart Gorrell) Her take on past regret is positively Charles-ian in its slow intensity. (She wonders, in the song, "Where is my music? Where is your harmony?")
Joel kicks things up a bit with "I Believe (When I Fall in Love It Will Be Forever)" (Stevie Wonder, Yvonne Wright), then really slows them down with—wait for it—the traditional Scottish folk song "Loch Lomond." This serves as an homage to her parents, who used to sing Scottish hymns to her Sunday mornings when she was a child, with Billy thumping away on a Hammond organ. Christie Brinkley (who was in Alexa Ray's opening night audience) gets her solo tribute with the oldie "On the Sunny Side of the Street" (Jimmy McHugh, Dorothy Fields) This is because Christie is perpetually cheerful, according to her daughter, who wonders "Why didn't I get that gene?" "Keep Young and Beautiful" (Harry Warren, Al Dubin) could be interpreted as a second paean to Brinkley, who remains both, but A.R. Joel insists it's just a jokey song for its own sake.
Joel doesn't ignore the rock era altogether. Her most surprising number is a reinvented "Skyscraper" (Greg Graffin), a hit for the punk rock/heavy metal group Bad Religion. She has slowed down her self-described "girly" cover to a hymn-like melody, accompanying herself on solo piano, in order to emphasize the lyrics: "Build me up, tear me down, like a skyscraper." She also covers the 1967 Procul Harem mega-hit "A Whiter Shade of Pale" (Keith Reed, Gary Brooker, Matthew Fisher), in tone and tempo pretty much as the group did it the first time. (I'm not sure there's any other way to do it.) Cellist Garo Yellin comes especially to the fore in this number. He and the equally estimable pianist/keyboardist Carmine Giglio are Joel's only backup musicians—and all she really needs. She does play keyboard herself on a few numbers, and piano on two, but says, "I don't know how the hell Dad does it. It's hard to play and sing at the same time."
Her own composition "Till it Goes Away," a tale of hurt and lament, is a touching mash-up of country waltz and the blues. Or, as she puts it, "cowgirl in a saloon meets Billie Holiday." Probably the only predictable number in her set is her firm finale (no faux encores for our girl!): "Just the Way You Are" (Billy Joel). She tinkers with the tempo and emphasis just a bit, but gamely plays along on keyboard and leavens any daughterly sentimentality by complaining "there are twenty chord changes in this song!"
The only downside in this diverse set is heard in Joel's patter. She uses the phrase "This next song is…" way too many times, without any attempt to connect each number to the one that went before, or the one to come after. And, on opening night at least, she was repeatedly and gushingly grateful that her full and enthusiastic audience had turned out, and begged them all to come back for her every subsequent performance. The nerves that were never seen while singing, came out in her chat. This problem could easily have been solved by a director, or a carefully written (and memorized) script. It may well be solved simply by repeated dates at the Carlyle. For this is one uptown girl who's there to stay.
Café Carlyle – April 1 – 12
Category: Reviews