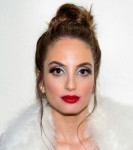 The Café Carlyle is one of the last of its kind in New York City—a genuine night club, an elegantly appointed room harkening back to the days of the Empire Room, the Persian Room and the Maisonette, where legendary stars and promising newcomers would ply their craft before a room full of equally elegant diners who were often there as much for the ambiance as for the performance. So it is a bit jarring when first seated to see not only the traditional grand piano but two electronic keyboards on stage—one up against the piano's keyboard and the other just off center stage. There were 20 or 30 pillar candles spread across the top of the piano, which might have had the more paranoid patrons concerned about a fire hazard but for the fact that just before show time, a man came on not to light them, but to turn them on—they were plastic, battery-powered candles.
This misguided attempt at sophistication continued through much of the performance of Alexa Ray Joel in a return engagement to the room, with Camine Giglio as music director. Like her famous father, Billy Joel, she writes as well as sings. "Downtown" (Tony Hatch) and "Let Me Entertain You" (Jule Styne, Stephen Sondheim) were re-written in "tribute" to her swanky East Side surroundings. Her unfunny parodies, filled with arch cliché, were particularly jarring and crude, especially in a room like the Carlyle. Joel rhymed "city" with "shitty" and went on to musically complain about her famous mother (who was in attendance), saying that "she is too fucking pretty." I am not a prude, but this was inappropriate. It was like a young girl using dirty words to try to sound grown up. In a medley of "On The Sunny Side of the Street" (Jimmy McHugh, Dorothy Fields) and "Keep Young and Beautiful" (Al Dubin, Harry Warren) she added an original called "My New Selfie" with lots of shtick involving an iPad, which proved as lacking in humor as her words. Speaking of lyrics, each time the line "rich as Rockefeller" appeared in "Sunny Side," it became "rich as rocka fellow"; I couldn't decide whether this was from ignorance or another attempt to be funny.
Physically ill at ease, with the microphone placed right up to her nose so that a lot of the audience could see only half of her face, Joel never stopped moving and never stopped performing; she was "on" all the time, as though she were afraid that if she stopped to breathe, the artifice would crumble. The lukewarm response of the audience to the material made the occasional whoops and hollers from friends and supporters seem as artificial and forced as what was happening on stage.
And then she sat down at the keyboard. And while I wish it had been at the actual piano, a miraculous transformation occurred. Freed from the physicality of being a "stand-up" performer, she embraced the security of being seated, of having something to do with her hands; she became another singer entirely. Here was a strong vocalist and accomplished musician, performing good songs written by her father: "Summer, Highland Falls" and "He's Got a Way." She thought about what she was singing and she made a connection with the audience. She wasn't trying to impress—she was impressive.  Where had this person been hiding all night?
Unfortunately once back on her feet, artifice and affectation took over again.  Excitedly telling the audience that she loved being able to pretend and become a character on stage, she went into "Don't Let Me Be Misunderstood," which she introduced as "by" Nina Simone, even though it was written by Bennie Benjamin, Gloria Caldwell, and Sol Marcus. She adopted an odd, inconsistent dialect and a silly, deep tone that I assume she thought sounded bluesy, but she warped pronunciation in odd ways: "misunderstood" became "misundersto-oo-oid." I think even she felt the disconnect with the audience at this point, because she followed with two more Billy Joel songs, ending the evening with a forced and overwrought "New York State of Mind."
I have on occasion used the phrase "too big for the room" when a singer over-performs. This is the first time I have been moved to use the phrase "too small for the room." If Alexa Ray Joel would get rid of the electronics and the ill-advised attempts at humor, and just sit down at a piano and sing in a more appropriate setting, she has a lot to offer.
Alexa Ray Joel
Café Carlyle  –  October 20 – 31
Category: Reviews