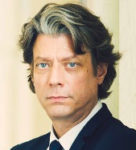 Eric Hoffman can swing, and he has a versatile baritone voice and a good jazz education as an instrumentalist, but there's an unexpected twist: he really hits his stride when he's being a lounge singer. There may be something in the corny fun, nostalgia, and swagger of a lounge act that catches Hoffman's sense of humor or gives him the freedom just to play on stage, but we all emerged from A New Nightclub Act, his show at Don't Tell Mama, singing the themes from The Love Boat (Charles Fox, Paul Williams) and Bewitched (Howard Greenfield, Jack Keller) and liking it; that's an impressive first. He must have known that he's onto something with that style when he chose a classic dark suit with velvet lapels as his outfit for the show.
However, the core of the show, which was directed by Marilyn Maye, was jazz standards and musical theatre repertory. With support from Tom Hubbard on bass and Daniel Glass on drums, musical director and pianist Tedd Firth brought lively variations in style and rhythm and very attentive accompaniment. The set included a three-song run from Gypsy (Jule Styne, Stephen Sondheim), with "Some People" happily lounged-up as a waltz. We had the chance to hear the rich sound of his legit baritone in a few selections, among them Lerner and Loewe's "If Ever I Would Leave You," and some agile comedy in "Ho-Dee-I, Ho-Dee-Ay, At the Country Fair" (Bob Wells, Mel Tormé) with lyrics offering emotional support to a lamb feeling the blue-ribbon pressure.
It's a bit of a curse to be a versatile vocalist and have as good an ear as Hoffman does, if only because as a chameleon you can transform and blend so well that to leave an audience with a clear impression of who you are as a singer, even just who you are for that one show, can be a challenge. As well as the singers he mentioned as inspirations (such as Jack Jones, Robert Goulet, and Brian Stokes Mitchell), we got moments of no-vibrato Chet Baker and warm Nat King Cole and some cocky Rat Pack back-phrasing—all good stuff, but we were still sometimes missing what felt like the real Eric.
Hoffman is great to hear as a trombonist, and his playing is very personal. He did solos in two songs in the middle of the evening. It was a good choice to do this twice and then go back to being a vocalist for the rest of the set, as this allowed us to hear his instrumental work but kept transitions running smoothly. The trombone solo in Tommy Dorsey's signature song, "I'm Getting Sentimental Over You" (George Bassman, Ned Washington), sang out beautifully on-pitch, gliding, heartfelt and deeply musical, showing us that personal glimpse of him as an artist.
A salute to Jimmy Webb was a nice choice of material: quality '70s pop with a country influence also hit Hoffman's sense of fun in the right spot, and introduced subtle colorations in his vocal sound. Although it's been performed by the best, Burt Bacharach and Hal David's catchy "Wives and Lovers" now encapsulates an era of values some of us are trying to leave behind; its breezy 1963 advice for Stepford wives would need a serious ironic twist beyond Hoffman's introductory apology if the song is to work in the same week TIME magazine proclaimed "The Silence Breakers" its 2017 Person of the Year.
Hoffman can do it all. Having shown that successfully, now it would be lovely to hear him in a simpler show that would allow us a few more glimpses of the guy behind the musicianship and the voice.
A New Nightclub Act
Don't Tell Mama  –  October 25, 26, 29, December 7
Category: Reviews