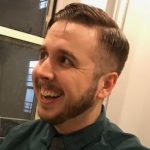 Back in the heyday of New York City cabaret (or at least back in one of the heydays of New York City cabaret) I can remember wandering into a club and hearing Marc Shaiman accompany André De Shields or Ellen Greene or Annie Golden. I would go to see a hot new singer like Annie Hughes and discover her accompanist, a fellow named Jason Robert Brown. I would be directing singer Joyce Lyons at Eighty Eights and we would contact her former accompanist, Stephen Flaherty, to find out whether there were any cut songs from his brand new show, Once on This Island, that we could feature in her brand new show; he gave us "Come Down from the Tree." Somehow, it seemed easier back then to stumble upon greatness—greatness of talent and of potential. But, happily, it can still happen.
These thoughts sprang to mind as I watched Love Letters – Music of Thomas Hodges recently at the Duplex. The composer/lyricist—for this show is, indeed, the music and words of Mr. Hodges—was new to me but he has apparently done variations of this show over the last few Valentine's seasons. The loose concept of love letters allowed for a broad selection of songs and stories and for some inspired collaboration with his terrific cast, Gracie Lee Brown and Jory Murphy. Song for song the evening had one of the strongest scores I've heard in years—in cabaret or theatre.
The talent of and the palpable warmth and camaraderie among the performers would cover a lot of sins, if there were sins to be covered. The only shaky step I witnessed was the first: a song called "Weak Man," a duet (or perhaps a counterpoint is more accurate) for Brown and Murphy. This declaration of what they look for in a partner, while never less than polished and professional, never really paid off. After that it was up, up and away, as song after song revealed Hodges to be a composer of breadth and depth, equally at home with a ballad, a specialty number, wild humor, or daring simplicity.
One conceit of the show was to have each member of the cast write an actual love letter, the contents of which would be revealed to the others only in performance. This idea could have easily descended into mawkish sentimentality, but far from it. The emotion engendered by the honesty and feeling on display was almost overwhelming. And barely allowing us a chance to recover from that, Hodges gave us a glimpse of his score for Dear Harvey, a play about Harvey Milk. As Brown and Murphy beautifully read passages from the piece, the composer underscored the stirring words with music of depth, passion and beauty. It was an extraordinary moment that I won't soon forget.
There are apparently other offerings planned before Valentine's Day 2020 rolls around and, presumably, brings with it another edition of Love Letters. That is good news, indeed. Thomas Hodges is an artist to follow, to support, to celebrate. I can't wait to hear more and I will be one of the first in line in February 2020.
One last observation: Whether electrifying the audience with a side-splitting incarnation of a bridesmaid from hell in "Maid of Shame" or digging into the emotional depths of "Boarding Planes," Gracie Lee Brown is an honest-to-goodness, ovation-inducing star. If there were an award for best supporting performance in a musical revue she would have not only this year's prize tied up in a neat little bow but perhaps next year's as well. I intend to run to her next performance, wherever that may be.
Love Letters – Music of Thomas Hodges
The Duplex  –  February 7
Category: Reviews