Cabaret Impresario Erv Raible Dies At 68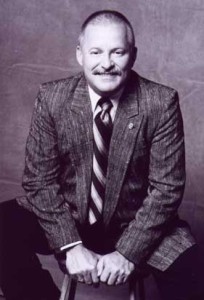 The cabaret community has lost a dear friend. Erv Raible, who played such a prominent role in the resurgence of the nightclub scene in Manhattan in the '70s,'80s and beyond, died on February 19 after a long illness.
Erv owned four of New York's most popular and legendary cabarets and piano bars: The Duplex (1978-1984), Brandy's Piano Bar (1980-1985), Don't Tell Mama (1982-1989), and Eighty Eight's, where he was a co-owner  and booking manager from 1988 until it closed in 1999. No one else has had such success in New York nightclubs.
Successful shows that originated in these venues include Nunsense and Closer Than Ever, as did prominent artists like Bonnie Franklin, Linda Lavin, and Harvey Fierstein.
His beloved life partner, Rob Hoskins, worked by his side from the start (in 1978) until his own death in December 1984. Erv continued to expand his activities and even brought local artists to perform in Paris (where he had a home for many years) and in other parts of the United States. In a career that spanned 35 years, Erv presented more than 4000 artists, many of whom went on to achieve recognition and stardom on Broadway and television. For years, he was regarded as cabaret's strongest, most vocal champion of the art form, and even fought authorities, unions and politicians for musicians' and performers' rights.
Along with New York Post critic Curt Davis, Erv co-founded the Manhattan Association of Cabarets (MAC)—later renamed the Manhattan Association of Cabarets & Clubs—and served as its President for 13 years. This was the first cabaret trade organization of its kind. MAC's annual spring awards gala honors legendary artists, rising stars, and newcomers.
He was the Associate Producer of the Eugene O'Neill Theater Center's Cabaret Symposium in Waterford, Connecticut for eight years. Subsequently, he was the Executive/Artistic Director of the International Cabaret Conference at Yale University, which he developed in conjunction with the Yale School of Drama and the Yale Repertory Theater; similar to the Cabaret Symposium in Waterford, it was an intensive program of master classes led by professionals of cabaret and the music industry.
Erv was the Executive Director of Cabaret & Concert Artists International, and was a New York City-based cabaret coach, director, publicist, consultant, and talent representative. In addition, he served as a master teacher, taught cabaret classes, and ran seminars, and he was a member of the Bistro Awards Committee.
Over the years he received many honors: a Bistro Award for promoting cabaret and founding MAC (1991); MAC and Bistro Awards for conceiving, producing, and directing the groundbreaking musical revue "Here's to Our Friends: The AIDS Music Revue" (1992); a MAC nomination for Outstanding Special Musical Material for the song "I Wish I Might," which he wrote with Emmy Award-winning composer Brian Lasser (1992); a Bistro Award to commemorate the club Eighty Eight's, given to Erv and the club's co-owners, Rochelle Selden and Karen Miller (2000); MAC Award nominations for Outstanding Director (2002, 2003, 2004); a Bistro Award as Outstanding Director (2004). In 1989, he was awarded the Piaf d'Honneur from the French government for his success promoting, producing and directing cabaret internationally. Nancy LaMott, Jenifer Lewis, Jeff Harnar and Sharon McNight are among the artists he presented in cabaret and concert in Paris.
He served on the Advisory Boards of the Washington DC Cabaret Network, Boston Association of Cabaret Artists, Chicago Cabaret Professionals, Cabaret West/Los Angeles, Pacific Northwest Cabaret Association, and the West Michigan Cabaret Association.
He was also a respected art teacher, collector and historian who traveled around the globe pursuing art rarities. An exhibition from his personal collection of art and Chinese porcelain toured Asia and Europe.
In spite of his many creative and tutorial interests, Erv will likely best be remembered for the plethora of talents he nurtured and presented, from celebrated award-winning artists, like Carol Hall, Sharon McNight, Karen Mason, Sally Mayes, Jenifer Lewis, Nathan Lane, and Sarah Jessica Parker, to a bevy of newcomers and rising artists, whom he delighted in teaching the art of live performance.
"Erv Raible was a legend in the New York cabaret community," states Sherry Eaker, producer of the Bistro Awards, and chair of the Bistro Awards Committee. "In a way, it was because of Erv that in 1984 I decided to hire Bob Harrington as a reviewer for Back Stage to cover the ever-burgeoning night club scene that I saw developing. And I learned that mostly from the growing number of press releases I was receiving in the mail, many from Erv's clubs. He was an integral part of the cabaret world and largely responsible for its growth over a period of more than two decades. He understood the specialness of the art form, and devoted himself to the many performers that played at his clubs. He has left behind a lot of wonderful memories."
Current MAC President, Lennie Watts, issued a statement that sums the man up best: "Erv Raible was a pioneer in the cabaret and nightlife world. He supported countless artists by not only nurturing them, but by giving them a place to call home in the clubs that he owned and ran. He was one of the major forces behind MAC and was a strong advocate for the rights of cabaret performers. Cabaret as we know it would not exist if not for the vision of Erv Raible."
Erv will be interred in Cincinnati, next to his parents, Erwin and Dorothy Raible, and his life-partner, Rob Hoskins. Funeral and memorial arrangements are pending and will be announced.
Category: News