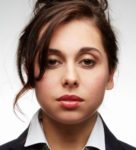 At Birdland, singer Veronica Swift and the Benny Green Trio deliver a most satisfying evening of jazz, centered almost solely in the world of bop. At the late show on opening night, Green and his cohorts opened the set with three fiery examples of jazz artistry. On their first selection, Green's blistering original "Wiggin" (in tribute to Gerald Wiggins), Green's astonishingly (almost violently) physical attack on piano set the tone for the trio's opening set. Horace Silver's "St. Vitus Dance" intensified the energy, with Green sliding back and forth on the bench, striking fear that he might actually slide right off. Cedar Walton's "Latin America" brought the level down a tad, but there was still much more Latin heat than Latin cool in the arrangement. Bassist Yasushi Nakamura presents a look of comparative calm, but his solid playing matched Green in concentration and fire. Drummer Carl Allen avoided a sense of sameness in his solos on the three broadly similar compositions and changed things up each time in exciting ways. I might have wished for a bit more variation in the opening set, but the band saved that for their accompaniment of the singer.
Just 23 years old, Veronica Swift strikes a quirky, cool visual on stage. In a masculine suit, scarf-tie, and beret, with one long pig tail resting on her left shoulder, she manages to combine a fresh modernity with a reverence for the earlier days of jazz and bebop as she carries on the tradition of her parents, vocalist Stepanie Nakasian and legendary pianist Hod O'Brien. With a sound reminiscent of both Doris Day and Anita O'Day (no mean feat), her mastery of and comfort with the form is indeed impressive.
As with most bop singers, her tendency is to let notes override words, so sometimes the storytelling gets lost in the process. It is most troublesome in her first song, "Dat Dere" (Bobby Timmons, Oscar Brown Jr.), in which she uses lyrics more as sounds in an extended scat chorus than as the funny musings of an inquisitive child; much of the humor and charm is lost. Her material, some of which will appear on her forthcoming CD, is smartly chosen throughout, and concerns disappear with her very next number, when she combines melodic invention with hushed romance in "Speak Low" (Kurt Weill, Ogden Nash). Dietz and Schwartz's "By Myself" strikes a masterful balance between a bittersweet delivery of the lyrics and an O'Day-like melismatic vocal.
A tribute to her father features "Thanks for You" (Bernie Hanighen, Marvin Wright) and the classic "We'll Be Together Again" (Carl T. Fischer, Frankie Laine). It is a beautifully realized glimpse into other worlds beyond bop that she is ready to explore. Jerry Herman seems an unlikely source for these proceedings, but that notion is immediately shattered in an arrangement of "It Only Takes a Moment" that stands shoulder to shoulder with the trio's opening on the incendiary scale. In a word (well, two words), it cooks.
With her distinctive style, look and demeanor and her singular voice, Veronica Swift more than holds her own surrounded by seasoned pros. Her arrival on the scene should be not only welcomed, but cheered.
Birdland – November 21-25
Category: Reviews